VCS-278 Exam Questions
Free VCS-278 Exam Questions - Veritas VCS-278 Exam
Veritas VCS-278 Exam
Administration of Veritas NetBackup 8.1.2
Total Questions: 220
Veritas VCS-278 Exam - Prepare from Latest, Not Redundant Questions!
Many candidates desire to prepare their Veritas VCS-278 exam with the help of only updated and relevant study material. But during their research, they usually waste most of their valuable time with information that is either not relevant or outdated. Study4Exam has a fantastic team of subject-matter experts that make sure you always get the most up-to-date preparatory material. Whenever there is a change in the syllabus of the Administration of Veritas NetBackup 8.1.2 exam, our team of experts updates VCS-278 questions and eliminates outdated questions. In this way, we save you money and time.
Do Not Fall for Cheap and Old Veritas VCS-278 Exam Questions
Study4Exam offers Premium High-Quality Exam Questions
Find out what will be covered on the exam and how it will be presented so you can prepare adequately. You can better prepare for the Veritas VCS-278 exam by familiarizing yourself with the types of questions and topics covered on the exam. Don't squander your time studying irrelevant material; instead, focus on what will be on the actual Veritas Certified Specialist exam.
Not Just Questions - Get Real Veritas VCS-278 Exam Experience
Create a schedule that allows you to devote sufficient time each day to studying for the Administration of Veritas NetBackup 8.1.2 exam. Try to cover the complete syllabus of the Veritas Certified Specialist exam. Do a self-assessment of preparation to know your weak spots. Fill these gaps in your preparation with our preparatory material and ace your exam on the first attempt.
Veritas VCS-278 Questions
Q1.
Refer to the exhibit.
A backup job configured with a retention level of 2 and ''Policy volume pool'' set to the ''server_tapes'' is failing due to status code 96: Unable to allocate new media for backup. See the output of the available_media command below: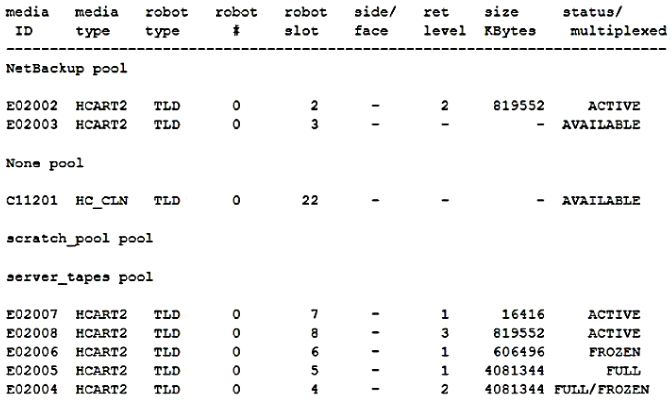 Which task in the NetBackup Administration Console should the administrator perform to resolve the status code 96 error?
Q2.
A NetBackup environment suffers from intermittent network outages between the MSDP media server and clients during the backup window. This results in multiple backup failures.
How should an administrator overcome the backup failure issue?
Q3.
Which NetBackup components can be updated with VxUpdate?
Q4.
An administrator has a job that has failed. Upon reviewing the Detailed Status tab for the job, the administrator sees the following information:

Which setting value prevented the job from running during the backup window?
Q5.
Which schedule type is unsupported for a NetBackup catalog backup policy?