PDI Exam Questions
Free PDI Exam Questions - Salesforce PDI Exam
Salesforce PDI Exam
Platform Developer I
Total Questions: 298
Based on Official Syllabus Topics of Actual Salesforce PDI Exam
During the preparation, you can be confused about Salesforce exam question types, exam pattern, and allocated time to attempt questions of the Salesforce Platform Developer I certification exam. Study4Exam helps you to remove these doubts with 3 formats of its Salesforce PDI exam preparation. We ensure that you will easily pass the Salesforce Platform Developer I exam either by using PDI PDF questions or taking the practice exam is web-based and desktop formats. You can prepare PDI practice questions in PDF format at any time and from any place with smartphones, laptops, or tablets. Preparation evaluation is very helpful to remove mistakes and successfully prepare for the Salesforce Platform Developer I PDI exam. The SalesforcePlatform Developer I PDI practice exam is one of the key steps of your exam preparation plan to identify your preparation mistakes, strengthen weaker areas of the preparation, and get familiar with the actual exam environment. Web-based and desktop Salesforce PDI practice exams are available to help you do self-assessment.
How these Free Questions can help you Prepare for the actual Salesforce PDI Exam?
Understand the Actual PDI Exam Syllabus, Format, and Question Types
Get official information about the syllabus and format of the exam to set an effective study plan. This information helps you to know what type of questions and topics will appear in the Salesforce PDI exam. Don't waste your time and concentrate on such learning content which is expected in the actual exam.
Self-Asses your preparation for the actual Salesforce Platform Developer I Exam
Manage your daily routine to ensure that you have the proper time to study for the Salesforce Platform Developer I exam every day. Sit in a calm environment and do hard work daily to cover the entire PDI exam syllabus. It is not possible to study one morning and pass the PDI exam the next day. If you want to get passing marks on the first attempt, prepare for the Salesforce PDI exam daily.
Salesforce PDI Questions
Q1.
An Apex method, getAccounts, that returns a List of Accounts given a searchTerm, is available for Lightning Web components to use.
What is the correct definition of a Lightning Web component property that uses the getAccounts method?

Q2.
As a part of class implementation a developer must execute a SOQL query against a large data ser based on the contact object. The method implementation is as follows.

Which two methods are best practice to implement heap size control for the above code? (Choose 2 Answers)
Q3.
A developer must create a ShippingCalculator class that cannot be instantiated and must include a working default implementation of a calculate method, that sub-classes can override.
What is the correct implementation of the ShippingCalculator class?

Q4.
A developer considers the following snippet of code: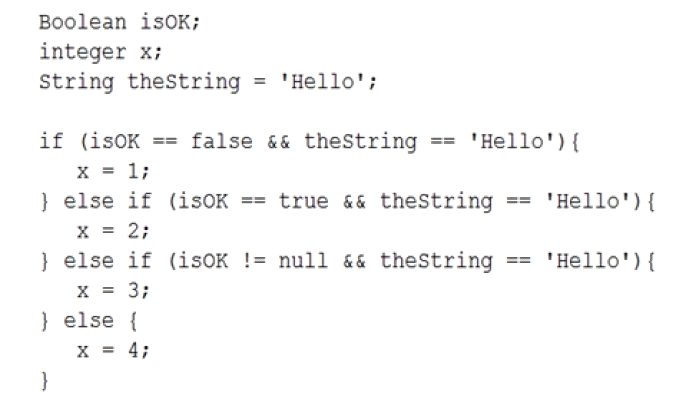 Based on this code, what is the value of x?
Q5.
What are three capabilities of the <ltng : require> tag when loading JavaScript resources in Aura components?
Choose 3 answers
Question: 5
Answer: B, C, D