QV12BA Exam Questions
Free QV12BA Exam Questions - Qlik QV12BA Exam
Qlik QV12BA Exam
QlikView 12 Business Analyst Certification Exam
Total Questions: 50
Based on Official Syllabus Topics of Actual Qlik QV12BA Exam
During the preparation, you can be confused about Qlik exam question types, exam pattern, and allocated time to attempt questions of the QlikView certification exam. Study4Exam helps you to remove these doubts with 3 formats of its Qlik QV12BA exam preparation. We ensure that you will easily pass the QlikView 12 Business Analyst Certification Exam either by using QV12BA PDF questions or taking the practice exam is web-based and desktop formats. You can prepare QV12BA practice questions in PDF format at any time and from any place with smartphones, laptops, or tablets. Preparation evaluation is very helpful to remove mistakes and successfully prepare for the QlikView QV12BA exam. The QlikQlikView QV12BA practice exam is one of the key steps of your exam preparation plan to identify your preparation mistakes, strengthen weaker areas of the preparation, and get familiar with the actual exam environment. Web-based and desktop Qlik QV12BA practice exams are available to help you do self-assessment.
How these Free Questions can help you Prepare for the actual Qlik QV12BA Exam?
Understand the Actual QV12BA Exam Syllabus, Format, and Question Types
Get official information about the syllabus and format of the exam to set an effective study plan. This information helps you to know what type of questions and topics will appear in the Qlik QV12BA exam. Don't waste your time and concentrate on such learning content which is expected in the actual exam.
Self-Asses your preparation for the actual QlikView 12 Business Analyst Certification Exam
Manage your daily routine to ensure that you have the proper time to study for the QlikView 12 Business Analyst Certification Exam every day. Sit in a calm environment and do hard work daily to cover the entire QV12BA exam syllabus. It is not possible to study one morning and pass the QV12BA exam the next day. If you want to get passing marks on the first attempt, prepare for the Qlik QV12BA exam daily.
Qlik QV12BA Questions
Q1.
Refer to the exhibits.

Chart_1 has been transformed into Chart_2
Which action did the business analyst take to transform the chart?
Q2.
A business analyst needs to open another GlikView document by trigger Which two options can be used to perform this task? (Select two.)
Q3.
Refer to the exhibits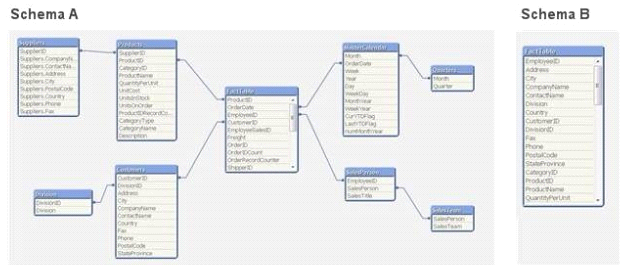 Schema A displayed in the exhibit has been transformed into Schema B
How can the before and after schemas be described?
Q4.
A business analyst has data for these fields
* Year
* Sales Amount
* Product Number
* Country
* Order Number
Which three KPIs may be calculated? (Select three.)
Q5.
A customer specified that the QlikView application should be designed to fit a screen resolution of 1280 x 800 as a standard.
Which option will assist a business analyst while creating the user interface?
Question: 4
Answer: A, D, E