1Z0-822 Exam Questions
Free 1Z0-822 Exam Questions - Oracle 1Z0-822 Exam
Oracle 1Z0-822 Exam
Oracle Solaris 11 Advanced System Administration
Total Questions: 140
Oracle 1Z0-822 Exam - Prepare from Latest, Not Redundant Questions!
Many candidates desire to prepare their Oracle 1Z0-822 exam with the help of only updated and relevant study material. But during their research, they usually waste most of their valuable time with information that is either not relevant or outdated. Study4Exam has a fantastic team of subject-matter experts that make sure you always get the most up-to-date preparatory material. Whenever there is a change in the syllabus of the Oracle Solaris 11 Advanced System Administration exam, our team of experts updates 1Z0-822 questions and eliminates outdated questions. In this way, we save you money and time.
Do Not Fall for Cheap and Old Oracle 1Z0-822 Exam Questions
Study4Exam offers Premium High-Quality Exam Questions
Find out what will be covered on the exam and how it will be presented so you can prepare adequately. You can better prepare for the Oracle 1Z0-822 exam by familiarizing yourself with the types of questions and topics covered on the exam. Don't squander your time studying irrelevant material; instead, focus on what will be on the actual Oracle Operating Systems exam.
Not Just Questions - Get Real Oracle 1Z0-822 Exam Experience
Create a schedule that allows you to devote sufficient time each day to studying for the Oracle Solaris 11 Advanced System Administration exam. Try to cover the complete syllabus of the Oracle Operating Systems exam. Do a self-assessment of preparation to know your weak spots. Fill these gaps in your preparation with our preparatory material and ace your exam on the first attempt.
Oracle 1Z0-822 Questions
Q1.
The default route for the NCP static is changed with the following command sequence: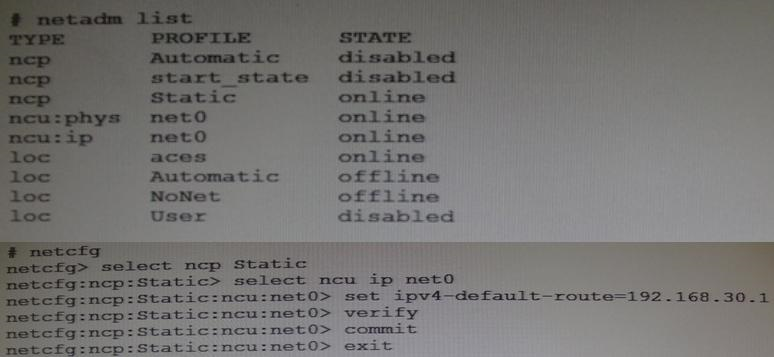 When does the entered route take effect?
Q2.
What are targets for IPMP probe-based failure detection configured by?
Q3.
Your organization uses NFS to share data from Oracle Solaris servers to Oracle Solaris clients. The server currently has an NFS share configured for the rpool/export/data file system. A client is currently mounting this file system. As administrator, you add a new file system rpool/export/data/yesterdays_data, and copy data into the new file system. Which action is required for the client currently mounting the rpool/expor/data file system to access the new data?
Q4.
You added three interfaces to an IPMP group. You now want to review the failure detection modes. Which command most you use to determine if all interfaces in the group support link-based detection?
Q5.
You administer a server running a global zone with no virtual networking. Consider the following configuration:

Which is a valid IPMP configuration for this server?