1Z0-820 Exam Questions
Free 1Z0-820 Exam Questions - Oracle 1Z0-820 Exam
Oracle 1Z0-820 Exam
Upgrade to Oracle Solaris 11 System Administrator
Total Questions: 131
Oracle 1Z0-820 Exam - Prepare from Latest, Not Redundant Questions!
Many candidates desire to prepare their Oracle 1Z0-820 exam with the help of only updated and relevant study material. But during their research, they usually waste most of their valuable time with information that is either not relevant or outdated. Study4Exam has a fantastic team of subject-matter experts that make sure you always get the most up-to-date preparatory material. Whenever there is a change in the syllabus of the Upgrade to Oracle Solaris 11 System Administrator exam, our team of experts updates 1Z0-820 questions and eliminates outdated questions. In this way, we save you money and time.
Do Not Fall for Cheap and Old Oracle 1Z0-820 Exam Questions
Study4Exam offers Premium High-Quality Exam Questions
Find out what will be covered on the exam and how it will be presented so you can prepare adequately. You can better prepare for the Oracle 1Z0-820 exam by familiarizing yourself with the types of questions and topics covered on the exam. Don't squander your time studying irrelevant material; instead, focus on what will be on the actual Oracle Partner Network exam.
Not Just Questions - Get Real Oracle 1Z0-820 Exam Experience
Create a schedule that allows you to devote sufficient time each day to studying for the Upgrade to Oracle Solaris 11 System Administrator exam. Try to cover the complete syllabus of the Oracle Partner Network exam. Do a self-assessment of preparation to know your weak spots. Fill these gaps in your preparation with our preparatory material and ace your exam on the first attempt.
Oracle 1Z0-820 Questions
Q1.
You need a copy of the zone configuration installed on your server for disaster recovery documentation. Which two commands would display the current configuration of the zone named testzone? (Choose two)
Q2.
You need to update an OS image on a client. The pkg publisher command displays the wrong publisher with the wrong update:
PUBLISHERTYPESTATUSURI
solansohQinonlinehttp://DkQ.oracle.conVsolaris/release
The update is available on this updated publisher:
PUBLISHERTYPESTATUSURI
solarisoriQJnonlinehttp://svsA.example.com
Select the option that describes the procedure used to update the OS image on this system from the updated publisher.
Q3.
You create a flash archive of the Solaris 10 global zone on the server named sysA, The archive name is s10---system flar, and it is stored on a remote server named backup_server.
On sysA, you create a Solaris 10 branded zone named s10-zone.
You want to use the flash archive, located on /net/backup_servers/10-system.flar, to install the operating system in the s10-zone zone.
Which command do you choose to install the s10-system flar archive in the Solaris 10 branded zone (s10-zone)?
Q4.
View the Exhibit and review the zpool and ZFS configuration information from your system.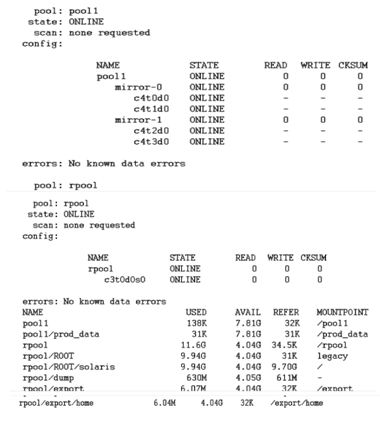 Identify the correct procedure for breaking the /prod_data mirror, removing c4tOdO and c4t2d0, and making the data on c4t0d0 and c4t2d0 accessible under the /dev_data mount point
Q5.
You are using this rule file with the Basic Audit Reporting Tool (BART) to detect inappropriate file system changes.
CHECK all IGNORE dirmtime
/etc/acct /etc/security /etc/notices IGNORE contents
/export/home/alice IGNORE mtime size contents
A/ar CHECK
/var/tmp IGNORE all
Identify the two correct statements describing the attributes recorded. (Choose two.)