1Z0-632 Exam Questions
Free 1Z0-632 Exam Questions - Oracle 1Z0-632 Exam
OracleOracle 1Z0-632 Exam
PeopleSoft PeopleTools 8.5x Implementation Essentials
Total Questions: 80
Based on Official Syllabus Topics of Actual Oracle 1Z0-632 Exam
During the preparation, you can be confused about Oracle exam question types, exam pattern, and allocated time to attempt questions of the Oracle PeopleSoft certification exam. Study4Exam helps you to remove these doubts with 3 formats of its Oracle 1Z0-632 exam preparation. We ensure that you will easily pass the Oracle PeopleSoft PeopleTools 8.5x Implementation Essentials exam either by using 1Z0-632 PDF questions or taking the practice exam is web-based and desktop formats. You can prepare 1Z0-632 practice questions in PDF format at any time and from any place with smartphones, laptops, or tablets. Preparation evaluation is very helpful to remove mistakes and successfully prepare for the Oracle PeopleSoft 1Z0-632 exam. The Oracle Oracle PeopleSoft 1Z0-632 practice exam is one of the key steps of your exam preparation plan to identify your preparation mistakes, strengthen weaker areas of the preparation, and get familiar with the actual exam environment. Web-based and desktop Oracle 1Z0-632 practice exams are available to help you do self-assessment.
How these Free Questions can help you Prepare for the actual Oracle 1Z0-632 Exam?
Understand the Actual 1Z0-632 Exam Syllabus, Format, and Question Types
Get official information about the syllabus and format of the exam to set an effective study plan. This information helps you to know what type of questions and topics will appear in the Oracle 1Z0-632 exam. Don't waste your time and concentrate on such learning content which is expected in the actual exam.
Self-Asses your preparation for the actual Oracle PeopleSoft PeopleTools 8.5x Implementation Essentials Exam
Manage your daily routine to ensure that you have the proper time to study for the Oracle PeopleSoft PeopleTools 8.5x Implementation Essentials exam every day. Sit in a calm environment and do hard work daily to cover the entire 1Z0-632 exam syllabus. It is not possible to study one morning and pass the 1Z0-632 exam the next day. If you want to get passing marks on the first attempt, prepare for the Oracle 1Z0-632 exam daily.
Oracle 1Z0-632 Questions
Q1.
Which event or events should you use for PeopleCode to autogenerate the purchase order number, the high-level key for the orders page?
Q2.
When registering fluid components, assume you usually create the content references so that they reside in the My Fluid Applications folder as shown in the exhibit.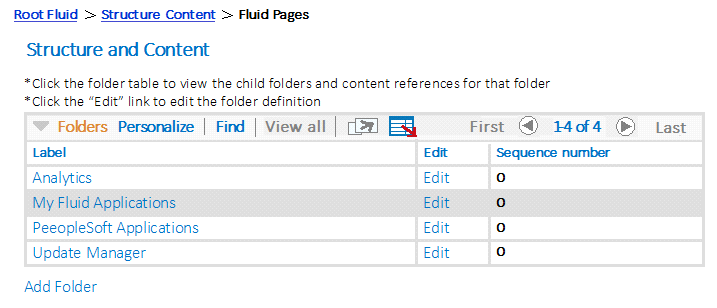 However, for your Fluid Billing component, you register the component so the content reference resides in a folder outside the Fluid Pages folder in the Billing folder (Root>Billling).
What effect does this have on users accessing this component?
Q3.
Which statement is correct about developing, modifying, and deploying PeopleSoft fluid applications?
Q4.
Your client has stipulated that a bonus of greater than 10% requires prior approval. The following SaveEdit program was developed to issue a warning when the bonus exceeds that amount:

However, as written, this warning is reissued for previously approved and saved bonus amounts that exceed 10%. How should you revise the conditions in the If clause to display a warning for new or updates bonuses only?
Q5.
This PeopleCode statement appears in a PreBuild program:
&Object = GetLevel10();
Which two statements are true? (Choose two.)