1Z0-516 Exam Questions
Free 1Z0-516 Exam Questions - Oracle 1Z0-516 Exam
OracleOracle 1Z0-516 Exam
Oracle E-Business Suite R12.1 General Ledger Essentials
Total Questions: 180
Based on Official Syllabus Topics of Actual Oracle 1Z0-516 Exam
During the preparation, you can be confused about Oracle exam question types, exam pattern, and allocated time to attempt questions of the Oracle E-Business Suite certification exam. Study4Exam helps you to remove these doubts with 3 formats of its Oracle 1Z0-516 exam preparation. We ensure that you will easily pass the Oracle E-Business Suite R12.1 General Ledger Essentials exam either by using 1Z0-516 PDF questions or taking the practice exam is web-based and desktop formats. You can prepare 1Z0-516 practice questions in PDF format at any time and from any place with smartphones, laptops, or tablets. Preparation evaluation is very helpful to remove mistakes and successfully prepare for the Oracle E-Business Suite 1Z0-516 exam. The Oracle Oracle E-Business Suite 1Z0-516 practice exam is one of the key steps of your exam preparation plan to identify your preparation mistakes, strengthen weaker areas of the preparation, and get familiar with the actual exam environment. Web-based and desktop Oracle 1Z0-516 practice exams are available to help you do self-assessment.
How these Free Questions can help you Prepare for the actual Oracle 1Z0-516 Exam?
Understand the Actual 1Z0-516 Exam Syllabus, Format, and Question Types
Get official information about the syllabus and format of the exam to set an effective study plan. This information helps you to know what type of questions and topics will appear in the Oracle 1Z0-516 exam. Don't waste your time and concentrate on such learning content which is expected in the actual exam.
Self-Asses your preparation for the actual Oracle E-Business Suite R12.1 General Ledger Essentials Exam
Manage your daily routine to ensure that you have the proper time to study for the Oracle E-Business Suite R12.1 General Ledger Essentials exam every day. Sit in a calm environment and do hard work daily to cover the entire 1Z0-516 exam syllabus. It is not possible to study one morning and pass the 1Z0-516 exam the next day. If you want to get passing marks on the first attempt, prepare for the Oracle 1Z0-516 exam daily.
Oracle 1Z0-516 Questions
Q1.
You set the GL: Journal Review Required profile option to ''Yes.'' Identify the result.
Q2.
Identify three true statements regarding Multiple Organization reporting. (Choose three.)
Q3.
Select three features that Multi-Org provides to satisfy business needs. (Choose three.)
Q4.
Exhibit: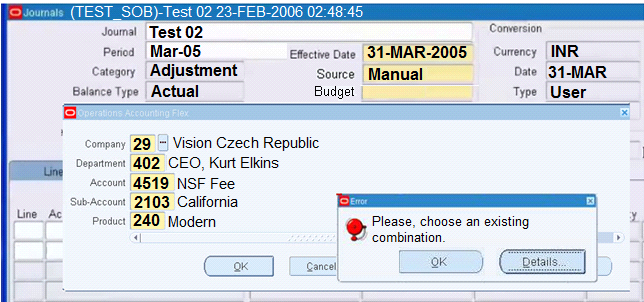 View the Exhibit. While entering a journal in the Journals form, you enter a code combination of 29.402.4519.2103.240 in the five-segment Accounting Flexfield. However, you are unable to proceed after entering this account combination.
What could be the problem in the structure definition of the Accounting Flexfield?
Q5.
Identify three features of shared entities in Oracle E-Business Suite Release 12. (Choose three.)
Question: 2
Answer: B, D, E
Question: 3
Answer: A, C, E
Question: 5
Answer: A, B, D