1Z0-134 Exam Questions
Free 1Z0-134 Exam Questions - Oracle 1Z0-134 Exam
Oracle 1Z0-134 Exam
Oracle WebLogic Server 12c: Advanced Administrator II
Total Questions: 125
Oracle 1Z0-134 Exam - Prepare from Latest, Not Redundant Questions!
Many candidates desire to prepare their Oracle 1Z0-134 exam with the help of only updated and relevant study material. But during their research, they usually waste most of their valuable time with information that is either not relevant or outdated. Study4Exam has a fantastic team of subject-matter experts that make sure you always get the most up-to-date preparatory material. Whenever there is a change in the syllabus of the Oracle WebLogic Server 12c: Advanced Administrator II exam, our team of experts updates 1Z0-134 questions and eliminates outdated questions. In this way, we save you money and time.
Do Not Fall for Cheap and Old Oracle 1Z0-134 Exam Questions
Study4Exam offers Premium High-Quality Exam Questions
Find out what will be covered on the exam and how it will be presented so you can prepare adequately. You can better prepare for the Oracle 1Z0-134 exam by familiarizing yourself with the types of questions and topics covered on the exam. Don't squander your time studying irrelevant material; instead, focus on what will be on the actual Oracle Java exam.
Not Just Questions - Get Real Oracle 1Z0-134 Exam Experience
Create a schedule that allows you to devote sufficient time each day to studying for the Oracle WebLogic Server 12c: Advanced Administrator II exam. Try to cover the complete syllabus of the Oracle Java exam. Do a self-assessment of preparation to know your weak spots. Fill these gaps in your preparation with our preparatory material and ace your exam on the first attempt.
Oracle 1Z0-134 Questions
Q1.
You are under Oracle Linux and you find the process ID of the WebLogic Managed Server Instance:

Which two command-line options can you use to issue a thread dump to examine the server for stuck threads? (Choose two.)
Q2.
One server in your WebLogic domain is experiencing a problem. You want to use the WebLogic Diagnostic Framework (WLDF) to diagnose the problem. The default built-in WLDF module is currently configured on the server, but it does not capture the metrics you need.
You have the following requirements:
You do not want to delete the existing module.
You want to minimize metric data output while troubleshooting the issue.
You want to focus your analysis on only the server that is experiencing the problem.
What WLDF configuration would achieve this result? (Choose the best answer.)
Q3.
Review the image below. It depicts the architecture for the WebLogic Server auditing.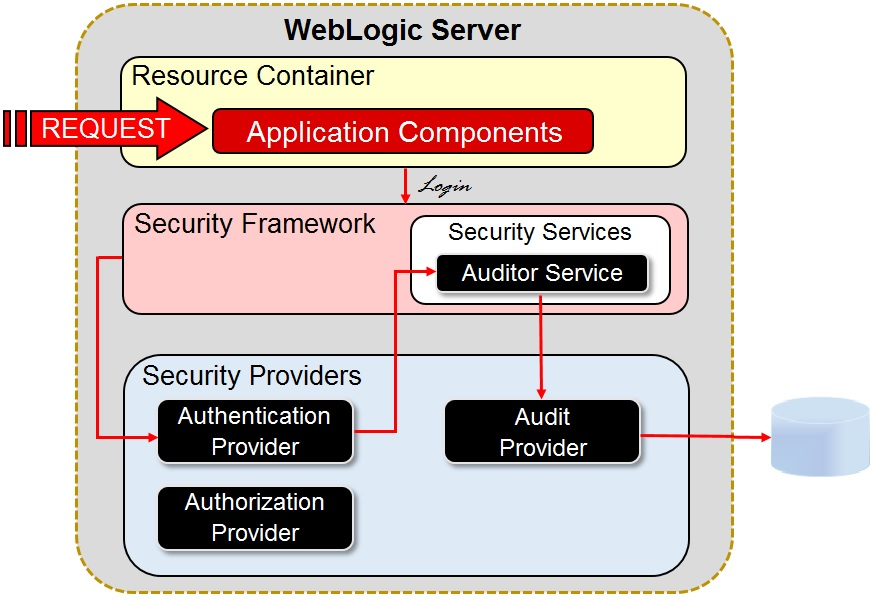 Where in the architecture does WebLogic apply audit configuration parameters that determine if an audit message is logged? (Choose the best answer.)
Q4.
You are required to configure SSL for an instance of WebLogic Server in a production environment. You have already created your self-signed certificate within the myKeyStore.jks keystore. You must now obtain a new digital certificate from a trusted Certificate Authority.
Which command do you use to start the process? (Choose the best answer.)
Q5.
You are in the process of validating the architecture of a domain that will serve applications to automate various business activities for a large retailer. The applications rely heavily on JMS and you need to pay special attention to JMS storage. You argue in favor of JDBC-based storage rather than file storage.
Your management has asked you to come up with a few key points about why this persistence option would be a better option in case of failure.
Which two justifications would support your choice? (Choose two.)