1Z0-133 Exam Questions
Free 1Z0-133 Exam Questions - Oracle 1Z0-133 Exam
Oracle 1Z0-133 Exam
Oracle WebLogic Server 12c: Administration I
Total Questions: 126
Oracle 1Z0-133 Exam - Prepare from Latest, Not Redundant Questions!
Many candidates desire to prepare their Oracle 1Z0-133 exam with the help of only updated and relevant study material. But during their research, they usually waste most of their valuable time with information that is either not relevant or outdated. Study4Exam has a fantastic team of subject-matter experts that make sure you always get the most up-to-date preparatory material. Whenever there is a change in the syllabus of the Oracle WebLogic Server 12c: Administration I exam, our team of experts updates 1Z0-133 questions and eliminates outdated questions. In this way, we save you money and time.
Do Not Fall for Cheap and Old Oracle 1Z0-133 Exam Questions
Study4Exam offers Premium High-Quality Exam Questions
Find out what will be covered on the exam and how it will be presented so you can prepare adequately. You can better prepare for the Oracle 1Z0-133 exam by familiarizing yourself with the types of questions and topics covered on the exam. Don't squander your time studying irrelevant material; instead, focus on what will be on the actual Oracle Middleware exam.
Not Just Questions - Get Real Oracle 1Z0-133 Exam Experience
Create a schedule that allows you to devote sufficient time each day to studying for the Oracle WebLogic Server 12c: Administration I exam. Try to cover the complete syllabus of the Oracle Middleware exam. Do a self-assessment of preparation to know your weak spots. Fill these gaps in your preparation with our preparatory material and ace your exam on the first attempt.
Oracle 1Z0-133 Questions
Q1.
You need to scale out an existing domain to include a new machine. You install WebLogic Server in the new machine. Which three steps are required to create the domain directory on the new machine? (Choose three.)
Q2.
Your Java-based Node Manager is unable to start a managed server named myserver. You investigate and realize that the boot.properties file Node Manager uses to store the credentials of the managed server has been corrupted in the file system. From past experience you know that if you delete the file, Node Manager will re-create it.
Q3.
Your administration server goes down. One of the managed server of the domain is also currently shut down. This managed server has been successfully started in the past. You cannot bring up the administration server right away, but you need to start the managed server. You run the start script, but the managed server will not start.
Explain this.
Q4.
View the following file except, which configures HTTP session replication:
replicated
From which file is this except taken?
Q5.
One of your applications sends SQL requests to a back-end database. Today some of these requests are very slow to complete and users are waiting an unusually long time before getting the information back. You decided to take a look at a thread dump and found several threads with a stack similar to: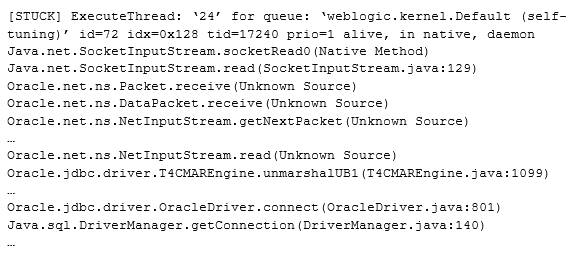 What should be your initial assumption and first action?
Question: 1
Answer: B, D, F
Note: If you see any error in these Oracle WebLogic Server 12c: Administration I questions or answers, get in touch with us via email: support@study4exam.com.