1Z0-133 Exam Questions
Free 1Z0-133 Exam Questions - Oracle 1Z0-133 Exam
OracleOracle 1Z0-133 Exam
Oracle WebLogic Server 12c: Administration I
Total Questions: 126
Based on Official Syllabus Topics of Actual Oracle 1Z0-133 Exam
During the preparation, you can be confused about Oracle exam question types, exam pattern, and allocated time to attempt questions of the Oracle Middleware certification exam. Study4Exam helps you to remove these doubts with 3 formats of its Oracle 1Z0-133 exam preparation. We ensure that you will easily pass the Oracle WebLogic Server 12c: Administration I exam either by using 1Z0-133 PDF questions or taking the practice exam is web-based and desktop formats. You can prepare 1Z0-133 practice questions in PDF format at any time and from any place with smartphones, laptops, or tablets. Preparation evaluation is very helpful to remove mistakes and successfully prepare for the Oracle Middleware 1Z0-133 exam. The Oracle Oracle Middleware 1Z0-133 practice exam is one of the key steps of your exam preparation plan to identify your preparation mistakes, strengthen weaker areas of the preparation, and get familiar with the actual exam environment. Web-based and desktop Oracle 1Z0-133 practice exams are available to help you do self-assessment.
How these Free Questions can help you Prepare for the actual Oracle 1Z0-133 Exam?
Understand the Actual 1Z0-133 Exam Syllabus, Format, and Question Types
Get official information about the syllabus and format of the exam to set an effective study plan. This information helps you to know what type of questions and topics will appear in the Oracle 1Z0-133 exam. Don't waste your time and concentrate on such learning content which is expected in the actual exam.
Self-Asses your preparation for the actual Oracle WebLogic Server 12c: Administration I Exam
Manage your daily routine to ensure that you have the proper time to study for the Oracle WebLogic Server 12c: Administration I exam every day. Sit in a calm environment and do hard work daily to cover the entire 1Z0-133 exam syllabus. It is not possible to study one morning and pass the 1Z0-133 exam the next day. If you want to get passing marks on the first attempt, prepare for the Oracle 1Z0-133 exam daily.
Oracle 1Z0-133 Questions
Q1.
You need to scale out an existing domain to include a new machine. You install WebLogic Server in the new machine. Which three steps are required to create the domain directory on the new machine? (Choose three.)
Q2.
Your Java-based Node Manager is unable to start a managed server named myserver. You investigate and realize that the boot.properties file Node Manager uses to store the credentials of the managed server has been corrupted in the file system. From past experience you know that if you delete the file, Node Manager will re-create it.
Q3.
Your administration server goes down. One of the managed server of the domain is also currently shut down. This managed server has been successfully started in the past. You cannot bring up the administration server right away, but you need to start the managed server. You run the start script, but the managed server will not start.
Explain this.
Q4.
View the following file except, which configures HTTP session replication:
replicated
From which file is this except taken?
Q5.
One of your applications sends SQL requests to a back-end database. Today some of these requests are very slow to complete and users are waiting an unusually long time before getting the information back. You decided to take a look at a thread dump and found several threads with a stack similar to: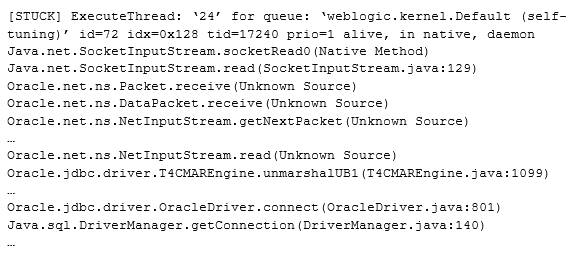 What should be your initial assumption and first action?
Question: 1
Answer: B, D, F