1Z0-1058-22 Exam Questions
Free 1Z0-1058-22 Exam Questions - Oracle 1Z0-1058-22 Exam
Oracle 1Z0-1058-22 Exam
Oracle Risk Management Cloud 2022 Implementation Professional
Total Questions: 75
Oracle 1Z0-1058-22 Exam - Prepare from Latest, Not Redundant Questions!
Many candidates desire to prepare their Oracle 1Z0-1058-22 exam with the help of only updated and relevant study material. But during their research, they usually waste most of their valuable time with information that is either not relevant or outdated. Study4Exam has a fantastic team of subject-matter experts that make sure you always get the most up-to-date preparatory material. Whenever there is a change in the syllabus of the Oracle Risk Management Cloud 2022 Implementation Professional exam, our team of experts updates 1Z0-1058-22 questions and eliminates outdated questions. In this way, we save you money and time.
Do Not Fall for Cheap and Old Oracle 1Z0-1058-22 Exam Questions
Study4Exam offers Premium High-Quality Exam Questions
Find out what will be covered on the exam and how it will be presented so you can prepare adequately. You can better prepare for the Oracle 1Z0-1058-22 exam by familiarizing yourself with the types of questions and topics covered on the exam. Don't squander your time studying irrelevant material; instead, focus on what will be on the actual Oracle Cloud exam.
Not Just Questions - Get Real Oracle 1Z0-1058-22 Exam Experience
Create a schedule that allows you to devote sufficient time each day to studying for the Oracle Risk Management Cloud 2022 Implementation Professional exam. Try to cover the complete syllabus of the Oracle Cloud exam. Do a self-assessment of preparation to know your weak spots. Fill these gaps in your preparation with our preparatory material and ace your exam on the first attempt.
Oracle 1Z0-1058-22 Questions
Q1.
During implementation, you created a Financial Reporting Compliance superuser and assigned this user the following roles:
Enterprise Risk and Control Manager
IT Security Manager
Employee
The superuser logs in to Financial Reporting Compliance but is not able to create new Data Security Policies.
What is wrong?
Q2.
You are remediating access incidents in Advanced Access Controls (AAC), and have just completed the remediation of a segregation of duties conflict for users in Fusion Security by removing the conflicting access from the users.
What status do you set for the incident in AAC?
Q3.
You are implementing Advanced Access Controls for a client. You need to create a model that returns users who have been assigned a specified access point but excludes a specific operating unit.
Which business object(s) do you need to add to your model to accomplish this objective?
Q4.
At the last step of initiating assessments, the assessment manager sees who the assessment participants are (to complete, review, and approve the assessments). If the assessment manager wants to change the participant, who completes the assessment, what should he or she do?
Q5.
Which controls can user A access and manage for the following Control Manager role configuration? See details of perspective trees and control-perspective association below.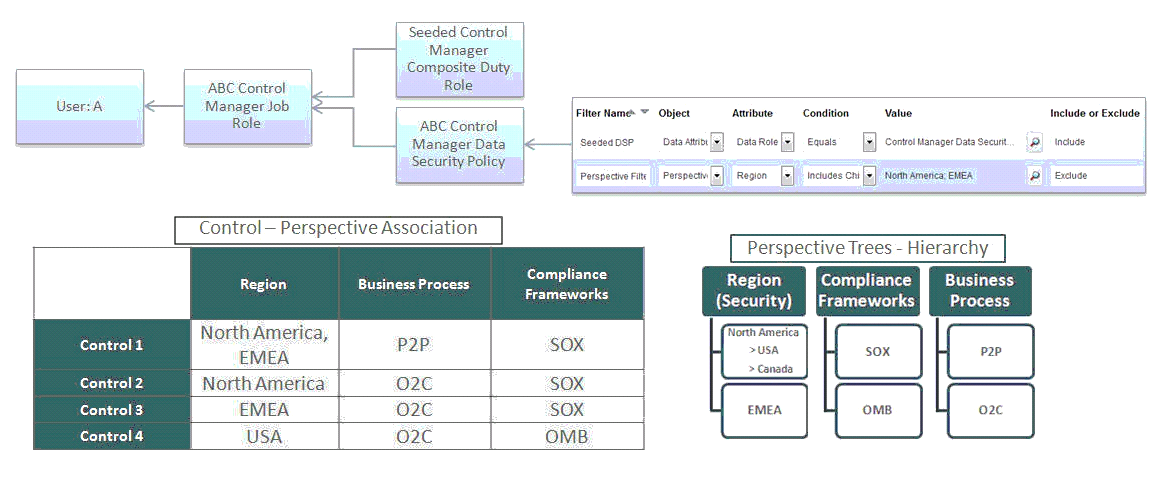 Note: If you see any error in these Oracle Risk Management Cloud 2022 Implementation Professional questions or answers, get in touch with us via email: support@study4exam.com.