1Z0-1045-22 Exam Questions
Free 1Z0-1045-22 Exam Questions - Oracle 1Z0-1045-22 Exam
Oracle 1Z0-1045-22 Exam
Oracle Warehouse Management Cloud 2022 Implementation Professional
Total Questions: 71
Oracle 1Z0-1045-22 Exam - Prepare from Latest, Not Redundant Questions!
Many candidates desire to prepare their Oracle 1Z0-1045-22 exam with the help of only updated and relevant study material. But during their research, they usually waste most of their valuable time with information that is either not relevant or outdated. Study4Exam has a fantastic team of subject-matter experts that make sure you always get the most up-to-date preparatory material. Whenever there is a change in the syllabus of the Oracle Warehouse Management Cloud 2022 Implementation Professional exam, our team of experts updates 1Z0-1045-22 questions and eliminates outdated questions. In this way, we save you money and time.
Do Not Fall for Cheap and Old Oracle 1Z0-1045-22 Exam Questions
Study4Exam offers Premium High-Quality Exam Questions
Find out what will be covered on the exam and how it will be presented so you can prepare adequately. You can better prepare for the Oracle 1Z0-1045-22 exam by familiarizing yourself with the types of questions and topics covered on the exam. Don't squander your time studying irrelevant material; instead, focus on what will be on the actual Oracle Cloud exam.
Not Just Questions - Get Real Oracle 1Z0-1045-22 Exam Experience
Create a schedule that allows you to devote sufficient time each day to studying for the Oracle Warehouse Management Cloud 2022 Implementation Professional exam. Try to cover the complete syllabus of the Oracle Cloud exam. Do a self-assessment of preparation to know your weak spots. Fill these gaps in your preparation with our preparatory material and ace your exam on the first attempt.
Oracle 1Z0-1045-22 Questions
Q1.
You are the Inventory Control Supervisor at your employer's East Coast facility. Your employer is a 3PL, and your customer is a large company that is also serviced out of the other 3PL facilities. As you start the shift, your Inventory Control team members inform you of a significant change in the RF Cycle Counting process.
Lost IBLPNs are now updates with a ''00'' lock code rather than the expected ''LL'' code.
Which scenario is causing this issue?
Q2.
The above diagram shows a typical Third Party Logistics (3PL) structure.
Identify the Facility, Company, and User levels, as applicable, in sequential order (that is, the proper label for box 1 is listed 1st in sequence).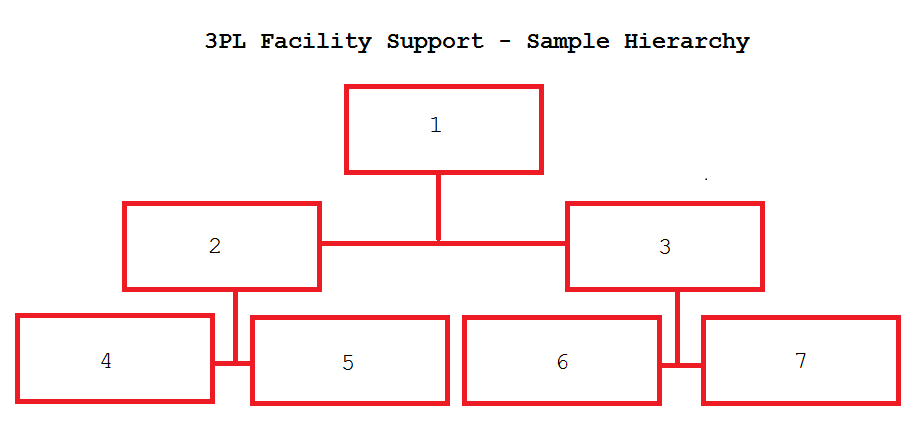 Q3.
Identify the type of functions you need to use to handle conditional information in a report.
Q4.
A client can integrate with WMS Cloud by using the input interface.
Which three options can be integrated? (Choose three.)
Q5.
The customer wants to change the items and quantities on an existing order in the WMS Cloud.
Identify the method they can use to achieve this.
Question: 4
Answer: B, C, D
Note: If you see any error in these Oracle Warehouse Management Cloud 2022 Implementation Professional questions or answers, get in touch with us via email: support@study4exam.com.