1Z0-067 Exam Questions
Free 1Z0-067 Exam Questions - Oracle 1Z0-067 Exam
Oracle 1Z0-067 Exam
Upgrade Oracle9i/10g/11g OCA OR OCP to Oracle Database
Total Questions: 263
Oracle 1Z0-067 Exam - Prepare from Latest, Not Redundant Questions!
Many candidates desire to prepare their Oracle 1Z0-067 exam with the help of only updated and relevant study material. But during their research, they usually waste most of their valuable time with information that is either not relevant or outdated. Study4Exam has a fantastic team of subject-matter experts that make sure you always get the most up-to-date preparatory material. Whenever there is a change in the syllabus of the Upgrade Oracle9i/10g/11g OCA OR OCP to Oracle Database exam, our team of experts updates 1Z0-067 questions and eliminates outdated questions. In this way, we save you money and time.
Do Not Fall for Cheap and Old Oracle 1Z0-067 Exam Questions
Study4Exam offers Premium High-Quality Exam Questions
Find out what will be covered on the exam and how it will be presented so you can prepare adequately. You can better prepare for the Oracle 1Z0-067 exam by familiarizing yourself with the types of questions and topics covered on the exam. Don't squander your time studying irrelevant material; instead, focus on what will be on the actual Oracle Database Application Development exam.
Not Just Questions - Get Real Oracle 1Z0-067 Exam Experience
Create a schedule that allows you to devote sufficient time each day to studying for the Upgrade Oracle9i/10g/11g OCA OR OCP to Oracle Database exam. Try to cover the complete syllabus of the Oracle Database Application Development exam. Do a self-assessment of preparation to know your weak spots. Fill these gaps in your preparation with our preparatory material and ace your exam on the first attempt.
Oracle 1Z0-067 Questions
Q1.
Examine the output from v$DIAG_INFO: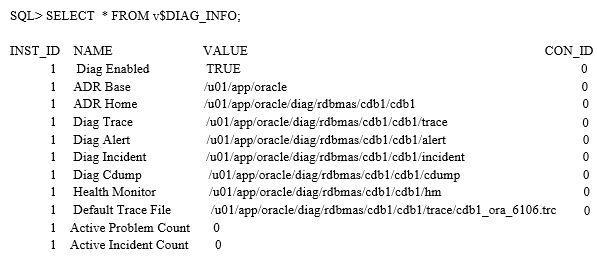 Which statement is true about the Automatic Diagnostic Repository (ADR)?
Q2.
Examine the query and its output executed in an RDBMS instance:

Which three statements are true about the users (other than SYS) in the output? (Choose three.)
Q3.
Examine the RMAN commands:
RMAN> CONNECT TARGET ''sbu@prod AS SYSBACKUP'';
RMAN> CONNECT AUXILIARY ''sbu@dup_db AS SYSBACKUP'';
RMAN> DUPLICATE TARGET DATABASE TO dup_db
FROM ACTIVE DATABASE
PASSWORD FILE
SECTION SIZE 400M;
Which statement is true about the DUPLICATE command?
Q4.
Your database is running in ARCHIVELOG mode. You use RMAN to take image copies and you update these copies incremental every six hours.
After a regular maintenance task, when you attempt to restart the instance, it halts in MOUNT state with an error indicating that one of the data files belonging to the EXAMPLE tablespace is lost. You want to recover the data file as quickly as possible while maximizing availability for the database.
Examine the possible steps involved in the recovery process:
Mount the database
Take the data file offline
Bring the tablespace online
Use the RMAN SWITCH command to switch to the image copy
Recover the tablespace
Open the database
Use the RMAN RESTORE command to switch to the image copy
Identify the correct sequence of the required steps:
Q5.
You are performing regular backups of your production database by using a recovery catalog.
You add two new tablespaces to your production database after performing a backup. They must be included in future backups. Which action should you perform?
Question: 2
Answer: A, B, D