NCA-5.15 Exam Questions
Free NCA-5.15 Exam Questions - Nutanix NCA-5.15 Exam
Nutanix NCA-5.15 Exam
Nutanix Certified Associate (NCA) 5.15
Total Questions: 90
Nutanix NCA-5.15 Exam - Prepare from Latest, Not Redundant Questions!
Many candidates desire to prepare their Nutanix NCA-5.15 exam with the help of only updated and relevant study material. But during their research, they usually waste most of their valuable time with information that is either not relevant or outdated. Study4Exam has a fantastic team of subject-matter experts that make sure you always get the most up-to-date preparatory material. Whenever there is a change in the syllabus of the Nutanix Certified Associate (NCA) 5.15 exam, our team of experts updates NCA-5.15 questions and eliminates outdated questions. In this way, we save you money and time.
Do Not Fall for Cheap and Old Nutanix NCA-5.15 Exam Questions
Study4Exam offers Premium High-Quality Exam Questions
Find out what will be covered on the exam and how it will be presented so you can prepare adequately. You can better prepare for the Nutanix NCA-5.15 exam by familiarizing yourself with the types of questions and topics covered on the exam. Don't squander your time studying irrelevant material; instead, focus on what will be on the actual Nutanix Certified Associate exam.
Not Just Questions - Get Real Nutanix NCA-5.15 Exam Experience
Create a schedule that allows you to devote sufficient time each day to studying for the Nutanix Certified Associate (NCA) 5.15 exam. Try to cover the complete syllabus of the Nutanix Certified Associate exam. Do a self-assessment of preparation to know your weak spots. Fill these gaps in your preparation with our preparatory material and ace your exam on the first attempt.
Nutanix NCA-5.15 Questions
Q1.
An administrator is upgrading a current three-node Nutanix cluster with new HCI nodes. Currently, the environment is based on a Single two-unit chassis hosted in one cabinet.
By simply changing the system form factor, what new level of resiliency may this customer achieve?
Q2.
An application owner had reported that an AHV-based critical application VM is performing very slowly. After initial diagnostics, it has been observed that the CPU utilization is significantly higher than normal.
What two actions should the administrator take on this VM without shutting it down? (Choose two.)
Q3.
Which Nutanix concept is responsible for accommodating and remediating node failure scenarios?
Q4.
Refer to the exhibit.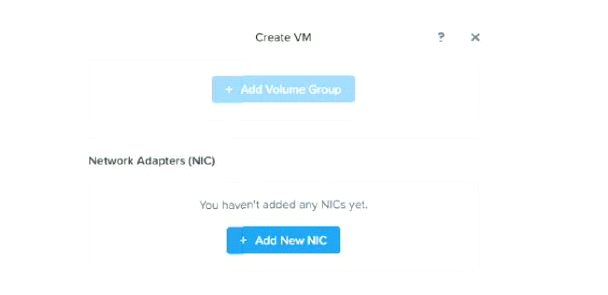 During VM creation, an administrator clicked on Add New NIC, but there is nothing in the Network Name dropdown list. What is causing this issue?
Q5.
Which policy specifies that a selected VM will only run on a specific group of nodes?