MCIA-Level-1 Exam Questions
Free MCIA-Level-1 Exam Questions - MuleSoft MCIA-Level-1 Exam
MuleSoft MCIA-Level-1 Exam
MuleSoft Certified Integration Architect - Level 1
Total Questions: 130
Based on Official Syllabus Topics of Actual MuleSoft MCIA-Level-1 Exam
During the preparation, you can be confused about MuleSoft exam question types, exam pattern, and allocated time to attempt questions of the MuleSoft Architect certification exam. Study4Exam helps you to remove these doubts with 3 formats of its MuleSoft MCIA-Level-1 exam preparation. We ensure that you will easily pass the MuleSoft Certified Integration Architect - Level 1 exam either by using MCIA-Level-1 PDF questions or taking the practice exam is web-based and desktop formats. You can prepare MCIA-Level-1 practice questions in PDF format at any time and from any place with smartphones, laptops, or tablets. Preparation evaluation is very helpful to remove mistakes and successfully prepare for the MuleSoft Architect MCIA-Level-1 exam. The MuleSoft Architect MCIA-Level-1 practice exam is one of the key steps of your exam preparation plan to identify your preparation mistakes, strengthen weaker areas of the preparation, and get familiar with the actual exam environment. Web-based and desktop MuleSoft MCIA-Level-1 practice exams are available to help you do self-assessment.
How these Free Questions can help you Prepare for the actual MuleSoft MCIA-Level-1 Exam?
Understand the Actual MCIA-Level-1 Exam Syllabus, Format, and Question Types
Get official information about the syllabus and format of the exam to set an effective study plan. This information helps you to know what type of questions and topics will appear in the MuleSoft MCIA-Level-1 exam. Don't waste your time and concentrate on such learning content which is expected in the actual exam.
Self-Asses your preparation for the actual MuleSoft Certified Integration Architect - Level 1 Exam
Manage your daily routine to ensure that you have the proper time to study for the MuleSoft Certified Integration Architect - Level 1 exam every day. Sit in a calm environment and do hard work daily to cover the entire MCIA-Level-1 exam syllabus. It is not possible to study one morning and pass the MCIA-Level-1 exam the next day. If you want to get passing marks on the first attempt, prepare for the MuleSoft MCIA-Level-1 exam daily.
MuleSoft MCIA-Level-1 Questions
Q1.
An integration Mute application consumes and processes a list of rows from a CSV file. Each row must be read from the CSV file, validated, and the row data sent to a JMS queue, in the exact order as in the CSV file.
If any processing step for a row falls, then a log entry must be written for that row, but processing of other rows must not be affected.
What combination of Mute components is most idiomatic (used according to their intended purpose) when Implementing the above requirements?
Q2.
A set of integration Mule applications, some of which expose APIs, are being created to enable a new business process. Various stakeholders may be impacted by this. These stakeholders are a combination of semi-technical users (who understand basic integration terminology and concepts such as JSON and XML) and technically skilled potential consumers of the Mule applications and APIs.
What Is an effective way for the project team responsible for the Mule applications and APIs being built to communicate with these stakeholders using Anypoint Platform and its supplied toolset?
Q3.
An organization's governance process requires project teams to get formal approval from all key stakeholders for all new Integration design specifications. An integration Mule application Is being designed that interacts with various backend systems. The Mule application will be created using Anypoint Design Center or Anypoint Studio and will then be deployed to a customer-hosted runtime.
What key elements should be included in the integration design specification when requesting approval for this Mule application?
Q4.
Refer to the exhibit.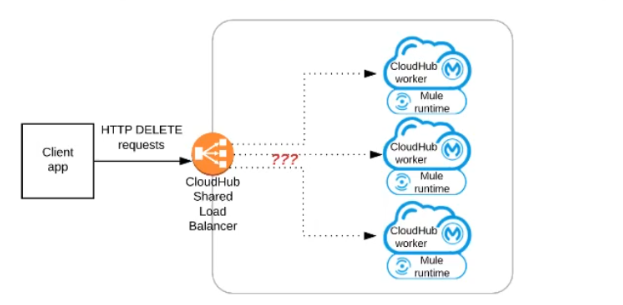 A Mule application has an HTTP Listener that accepts HTTP DELETE requests. This Mule application Is deployed to three CloudHub workers under the control of the CloudHub Shared Load Balancer.
A web client makes a sequence of requests to the Mule application's public URL.
How is this sequence of web client requests distributed among the HTTP Listeners running in the three CloudHub workers?
Q5.
49 of A popular retailer is designing a public API for its numerous business partners. Each business partner will invoke the API at the URL 58. https://api.acme.com/partnefs/vl. The API implementation is estimated to require deployment to 5 CloudHub workers.
The retailer has obtained a public X.509 certificate for the name apl.acme.com, signed by a reputable CA, to be used as the server certificate.
Where and how should the X.509 certificate and Mule applications be used to configure load balancing among the 5 CloudHub workers, and what DNS entries should be configured in order for the retailer to support its numerous business partners?