SC-100 Exam Questions
Free SC-100 Exam Questions - Microsoft SC-100 Exam
Microsoft SC-100 Exam
Microsoft Cybersecurity Architect
Total Questions: 117
Microsoft SC-100 Exam - Prepare from Latest, Not Redundant Questions!
Many candidates desire to prepare their Microsoft SC-100 exam with the help of only updated and relevant study material. But during their research, they usually waste most of their valuable time with information that is either not relevant or outdated. Study4Exam has a fantastic team of subject-matter experts that make sure you always get the most up-to-date preparatory material. Whenever there is a change in the syllabus of the Microsoft Cybersecurity Architect exam, our team of experts updates SC-100 questions and eliminates outdated questions. In this way, we save you money and time.
Do Not Fall for Cheap and Old Microsoft SC-100 Exam Questions
Study4Exam offers Premium High-Quality Exam Questions
Find out what will be covered on the exam and how it will be presented so you can prepare adequately. You can better prepare for the Microsoft SC-100 exam by familiarizing yourself with the types of questions and topics covered on the exam. Don't squander your time studying irrelevant material; instead, focus on what will be on the actual Cybersecurity Architect Expert exam.
Not Just Questions - Get Real Microsoft SC-100 Exam Experience
Create a schedule that allows you to devote sufficient time each day to studying for the Microsoft Cybersecurity Architect exam. Try to cover the complete syllabus of the Cybersecurity Architect Expert exam. Do a self-assessment of preparation to know your weak spots. Fill these gaps in your preparation with our preparatory material and ace your exam on the first attempt.
Microsoft SC-100 Questions
Q1.
Your company has an Azure subscription that has enhanced security enabled for Microsoft Defender for Cloud.
The company signs a contract with the United States government. You need to review the current subscription for NIST 800-53 compliance. What should you do first?
Q2.
You have a Microsoft 365 subscription and an Azure subscription. Microsoft 365 Defender and Microsoft Defender for Cloud are enabled.
The Azure subscription contains 50 virtual machines. Each virtual machine runs different applications on Windows Server 2019.
You need to recommend a solution to ensure that only authorized applications can run on the virtual machines. If an unauthorized application attempts to run or be installed, the application must be blocked automatically until an administrator authorizes the application.
Which security control should you recommend?
Q3.
You have Microsoft Defender for Cloud assigned to Azure management groups.
You have a Microsoft Sentinel deployment.
During the triage of alerts, you require additional information about the security events, including suggestions for remediation. Which two components can you use to achieve the goal? Each correct answer presents a complete solution.
NOTE: Each correct selection is worth one point.
Q4.
A customer is deploying Docker images to 10 Azure Kubernetes Service (AKS) resources across four Azure subscriptions. You are evaluating the security posture of the customer.
You discover that the AKS resources are excluded from the secure score recommendations. You need to produce accurate recommendations and update the secure score.
Which two actions should you recommend in Microsoft Defender for Cloud? Each correct answer presents part of the solution. NOTE: Each correct selection is worth one point.
Q5.
You have an Azure subscription that has Microsoft Defender for Cloud enabled.
You are evaluating the Azure Security Benchmark V3 report as shown in the following exhibit.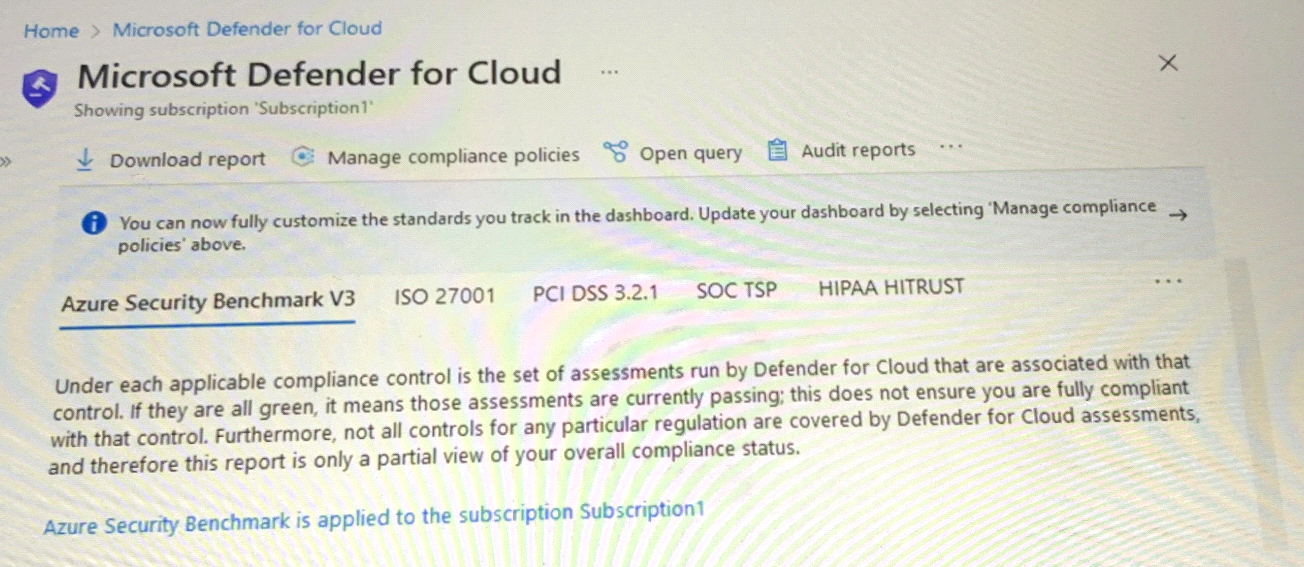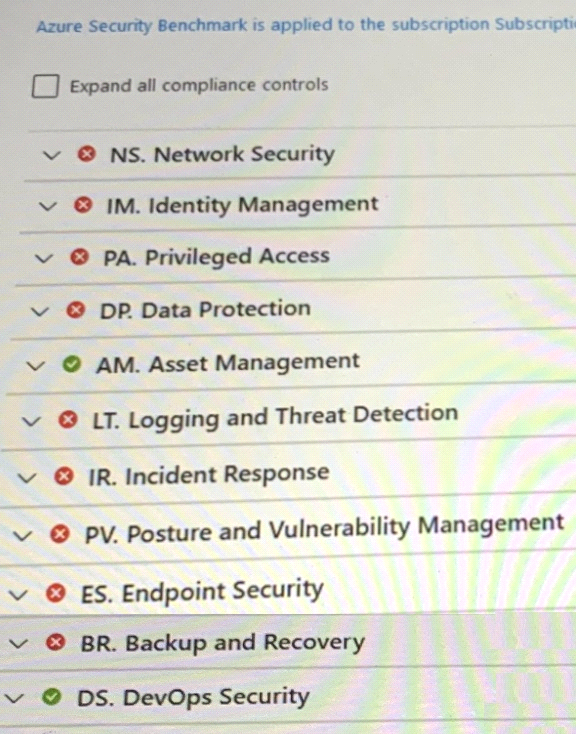 You need to verify whether Microsoft Defender for servers is installed on all the virtual machines that run Windows. Which compliance control should you evaluate?