PL-500 Exam Questions
Free PL-500 Exam Questions - Microsoft PL-500 Exam
Microsoft PL-500 Exam
Microsoft Power Automate RPA Developer
Total Questions: 110
Microsoft PL-500 Exam - Prepare from Latest, Not Redundant Questions!
Many candidates desire to prepare their Microsoft PL-500 exam with the help of only updated and relevant study material. But during their research, they usually waste most of their valuable time with information that is either not relevant or outdated. Study4Exam has a fantastic team of subject-matter experts that make sure you always get the most up-to-date preparatory material. Whenever there is a change in the syllabus of the Microsoft Power Automate RPA Developer exam, our team of experts updates PL-500 questions and eliminates outdated questions. In this way, we save you money and time.
Do Not Fall for Cheap and Old Microsoft PL-500 Exam Questions
Study4Exam offers Premium High-Quality Exam Questions
Find out what will be covered on the exam and how it will be presented so you can prepare adequately. You can better prepare for the Microsoft PL-500 exam by familiarizing yourself with the types of questions and topics covered on the exam. Don't squander your time studying irrelevant material; instead, focus on what will be on the actual Power Automate RPA Developer Associate exam.
Not Just Questions - Get Real Microsoft PL-500 Exam Experience
Create a schedule that allows you to devote sufficient time each day to studying for the Microsoft Power Automate RPA Developer exam. Try to cover the complete syllabus of the Power Automate RPA Developer Associate exam. Do a self-assessment of preparation to know your weak spots. Fill these gaps in your preparation with our preparatory material and ace your exam on the first attempt.
Microsoft PL-500 Questions
Q1.
You develop automation solutions for a company.
When a new record is added to a Microsoft Dataverse table, the solution must add the contents of the record to a Microsoft Word Online (Business) template The solution must convert the template to a PDF document and email the PDF document to a stakeholder.
You need to design the solution.
Which three actions should you perform? Each correct answer presents part of the solution. NOTE: Each correct selection is worth one point.
Q2.
You create several desktop flows. Each flow will run on a single user's device.
You need to determine how Power Automate will orchestrate the flows.
Which three rules will Power Automate apply? Each correct answer presents a complete solution.
NOTE: Each correct selection is worth one point.
Q3.
You create a variable named NewVar as shown in the configuration screen below.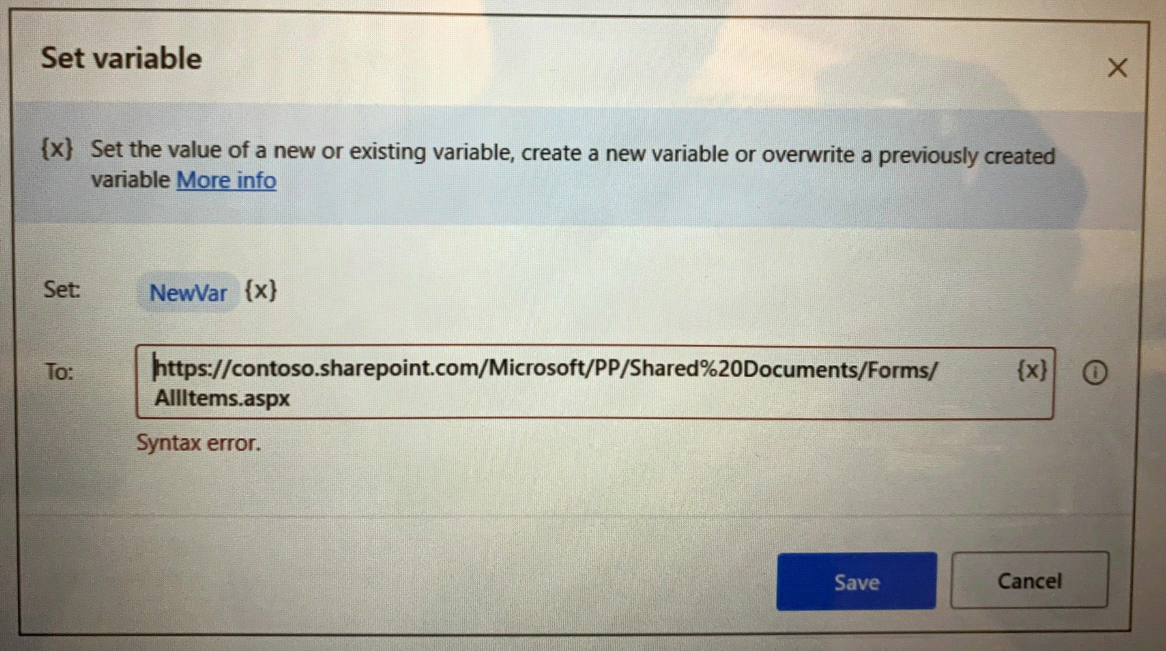 You attempt to set the value of NewVar to the following URL:

The Set variable page alerts you that there is a syntax error. You need to resolve the issue. What should you do?
Q4.
You are developing an RPA solution that requires browser automation. You are testing the flow. You observe that the flow does not interact with web page elements in Microsoft Edge. You need to troubleshoot the issue. What should you do?
Q5.
You are trying to record the process that a hospitality facility uses to check in patients. You need to identify bottlenecks and variations in the process. What should you use?
Question: 1
Answer: A, B, E
Question: 2
Answer: A, E, F