MS-740 Exam Questions
Free MS-740 Exam Questions - Microsoft MS-740 Exam
Microsoft MS-740 Exam
Troubleshooting Microsoft Teams
Total Questions: 67
Microsoft MS-740 Exam - Prepare from Latest, Not Redundant Questions!
Many candidates desire to prepare their Microsoft MS-740 exam with the help of only updated and relevant study material. But during their research, they usually waste most of their valuable time with information that is either not relevant or outdated. Study4Exam has a fantastic team of subject-matter experts that make sure you always get the most up-to-date preparatory material. Whenever there is a change in the syllabus of the Troubleshooting Microsoft Teams exam, our team of experts updates MS-740 questions and eliminates outdated questions. In this way, we save you money and time.
Do Not Fall for Cheap and Old Microsoft MS-740 Exam Questions
Study4Exam offers Premium High-Quality Exam Questions
Find out what will be covered on the exam and how it will be presented so you can prepare adequately. You can better prepare for the Microsoft MS-740 exam by familiarizing yourself with the types of questions and topics covered on the exam. Don't squander your time studying irrelevant material; instead, focus on what will be on the actual Teams Support Engineer Specialty exam.
Not Just Questions - Get Real Microsoft MS-740 Exam Experience
Create a schedule that allows you to devote sufficient time each day to studying for the Troubleshooting Microsoft Teams exam. Try to cover the complete syllabus of the Teams Support Engineer Specialty exam. Do a self-assessment of preparation to know your weak spots. Fill these gaps in your preparation with our preparatory material and ace your exam on the first attempt.
Microsoft MS-740 Questions
Q1.
You are an administrator in an organization. You share files in chats with other users.
The users report that they are unable to access the files. Users see an error message as shown in the image: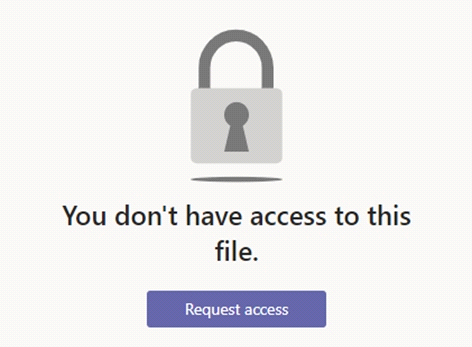 You need to resolve the issue by updating the OneDrive for Business settings for the users. You navigate to the settings page for the Team's SharePoint site collection.
What should you do?
Q2.
User1 shares a Microsoft Word document with User2 during a Microsoft Teams chat session.
User2 is unable to make any changes to the document.
You need to determine the root cause of the issue.
What is the cause?
Q3.
A company assigns Microsoft 365 E3 licenses to all users. The company configures a Conditional Access policy.
UserA initiates a one-to-one Microsoft Teams chat with UserB. UserA reports that they cannot share files with UserB. All other users within the company can share files in one-to-one chats.
You need to resolve the issue.
What should you do?
Q4.
You are managing the Teams environment for a tenant with Microsoft Cloud App Security (MCAS) enabled. All users of the tenant can share and download files via Microsoft Teams person-to-person (P2P) private chat.
User1 can share files but when trying to download files shared by colleagues, the notification The files didn't download. appears in the bottom right corner of the screen.
You need to determine the cause of this issue.
What is the cause of this issue?
Q5.
An organization has E5 licenses without audio conferencing.
When a user sends a chat message from the Microsoft Teams desktop app the messages are not delivered to recipients. When the user sends a chat message by using the Teams mobile app the messages are delivered.
You need to resolve the issue.
Which three actions should you perform? Each correct answer presents a complete solution.
NOTE: Each correct selection is worth one point.
Question: 5
Answer: B, C, D