DP-900 Exam Questions
Free DP-900 Exam Questions - Microsoft DP-900 Exam
Microsoft DP-900 Exam
Microsoft Azure Data Fundamentals
Total Questions: 222
Based on Official Syllabus Topics of Actual Microsoft DP-900 Exam
During the preparation, you can be confused about Microsoft exam question types, exam pattern, and allocated time to attempt questions of the Microsoft Azure Data Fundamentals certification exam. Study4Exam helps you to remove these doubts with 3 formats of its Microsoft DP-900 exam preparation. We ensure that you will easily pass the Microsoft Azure Data Fundamentals exam either by using DP-900 PDF questions or taking the practice exam is web-based and desktop formats. You can prepare DP-900 practice questions in PDF format at any time and from any place with smartphones, laptops, or tablets. Preparation evaluation is very helpful to remove mistakes and successfully prepare for the Microsoft Azure Data Fundamentals DP-900 exam. The MicrosoftAzure Data Fundamentals DP-900 practice exam is one of the key steps of your exam preparation plan to identify your preparation mistakes, strengthen weaker areas of the preparation, and get familiar with the actual exam environment. Web-based and desktop Microsoft DP-900 practice exams are available to help you do self-assessment.
How these Free Questions can help you Prepare for the actual Microsoft DP-900 Exam?
Understand the Actual DP-900 Exam Syllabus, Format, and Question Types
Get official information about the syllabus and format of the exam to set an effective study plan. This information helps you to know what type of questions and topics will appear in the Microsoft DP-900 exam. Don't waste your time and concentrate on such learning content which is expected in the actual exam.
Self-Asses your preparation for the actual Microsoft Azure Data Fundamentals Exam
Manage your daily routine to ensure that you have the proper time to study for the Microsoft Azure Data Fundamentals exam every day. Sit in a calm environment and do hard work daily to cover the entire DP-900 exam syllabus. It is not possible to study one morning and pass the DP-900 exam the next day. If you want to get passing marks on the first attempt, prepare for the Microsoft DP-900 exam daily.
Microsoft DP-900 Questions
Q1.
Your company is designing a data store that will contain student dat
a. The data has the following format.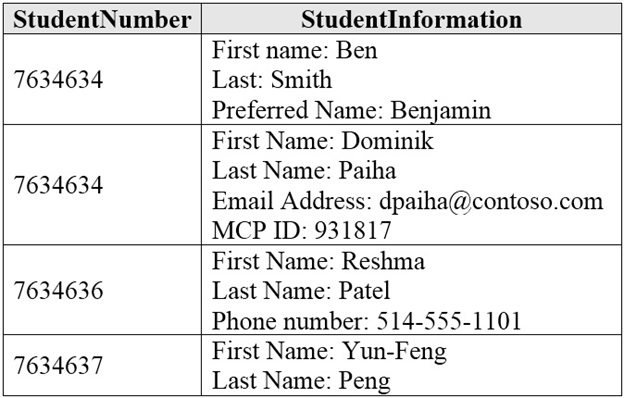 Which type of data store should you use?
Q2.
You have an Azure Cosmos DB account that uses the Core (SQL) API.
Which two settings can you configure at the container level? Each correct answer presents a complete
solution. (Choose two.)
NOTE: Each correct selection is worth one point.
Q3.
You need to design and model a database by using a graphical tool that supports project-oriented offline
database development.
What should you use?
Q4.
You need to ensure that users use multi-factor authentication (MFA) when connecting to an Azure SQL
database.
Which type of authentication should you use?
Q5.
Which statement is an example of Data Definition Language (DDL)?