DP-100 Exam Questions
Free DP-100 Exam Questions - Microsoft DP-100 Exam
Microsoft DP-100 Exam
Designing and Implementing a Data Science Solution on Azure
Total Questions: 265
Microsoft DP-100 Exam - Prepare from Latest, Not Redundant Questions!
Many candidates desire to prepare their Microsoft DP-100 exam with the help of only updated and relevant study material. But during their research, they usually waste most of their valuable time with information that is either not relevant or outdated. Study4Exam has a fantastic team of subject-matter experts that make sure you always get the most up-to-date preparatory material. Whenever there is a change in the syllabus of the Designing and Implementing a Data Science Solution on Azure exam, our team of experts updates DP-100 questions and eliminates outdated questions. In this way, we save you money and time.
Do Not Fall for Cheap and Old Microsoft DP-100 Exam Questions
Study4Exam offers Premium High-Quality Exam Questions
Find out what will be covered on the exam and how it will be presented so you can prepare adequately. You can better prepare for the Microsoft DP-100 exam by familiarizing yourself with the types of questions and topics covered on the exam. Don't squander your time studying irrelevant material; instead, focus on what will be on the actual Azure Data Scientist Associate exam.
Not Just Questions - Get Real Microsoft DP-100 Exam Experience
Create a schedule that allows you to devote sufficient time each day to studying for the Designing and Implementing a Data Science Solution on Azure exam. Try to cover the complete syllabus of the Azure Data Scientist Associate exam. Do a self-assessment of preparation to know your weak spots. Fill these gaps in your preparation with our preparatory material and ace your exam on the first attempt.
Microsoft DP-100 Questions
Q1.
You are creating a new Azure Machine Learning pipeline using the designer.
The pipeline must train a model using data in a comma-separated values (CSV) file that is published on a
website. You have not created a dataset for this file.
You need to ingest the data from the CSV file into the designer pipeline using the minimal administrative effort.
Which module should you add to the pipeline in Designer?
Q2.
You train and register a model in your Azure Machine Learning workspace.
You must publish a pipeline that enables client applications to use the model for batch inferencing. You must use a pipeline with a single ParallelRunStep step that runs a Python inferencing script to get predictions from the input data.
You need to create the inferencing script for the ParallelRunStep pipeline step.
Which two functions should you include? Each correct answer presents part of the solution.
NOTE: Each correct selection is worth one point.
Q3.
You create a batch inference pipeline by using the Azure ML SDK. You run the pipeline by using the following code:
from azureml.pipeline.core import Pipeline
from azureml.core.experiment import Experiment
pipeline = Pipeline(workspace=ws, steps=[parallelrun_step])
pipeline_run = Experiment(ws, 'batch_pipeline').submit(pipeline)
You need to monitor the progress of the pipeline execution.
What are two possible ways to achieve this goal? Each correct answer presents a complete solution.
NOTE: Each correct selection is worth one point.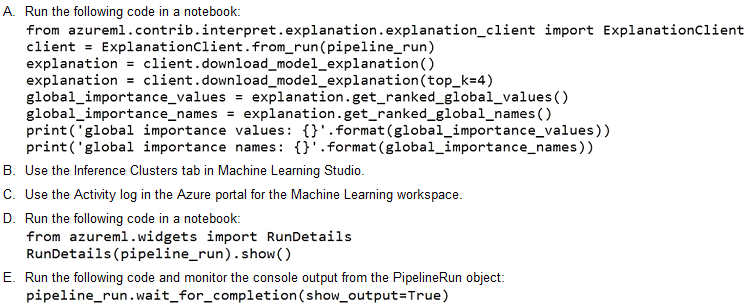 Q4.
You create a deep learning model for image recognition on Azure Machine Learning service using GPU-based training.
You must deploy the model to a context that allows for real-time GPU-based inferencing.
You need to configure compute resources for model inferencing.
Which compute type should you use?
Q5.
You create a datastore named training_data that references a blob container in an Azure Storage account. The blob container contains a folder named csv_files in which multiple comma-separated values (CSV) files are stored.
You have a script named train.py in a local folder named ./script that you plan to run as an experiment using an estimator. The script includes the following code to read data from the csv_files folder:

You have the following script.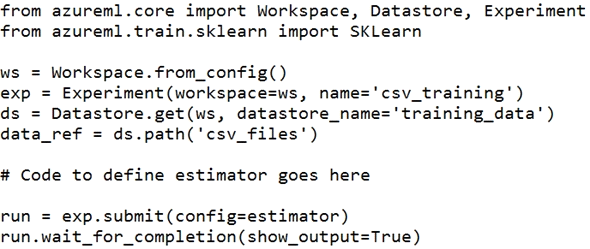 You need to configure the estimator for the experiment so that the script can read the data from a data reference named data_ref that references the csv_files folder in the training_data datastore.
Which code should you use to configure the estimator?