JN0-349 JNCIS-ENT Exam Questions
Free JN0-349 JNCIS-ENT Exam Questions - Juniper JN0-349 Exam
Juniper JN0-349 Exam
Enterprise Routing and Switching, Specialist
Total Questions: 110
Juniper JN0-349 Exam - Prepare from Latest, Not Redundant Questions!
Many candidates desire to prepare their Juniper JN0-349 exam with the help of only updated and relevant study material. But during their research, they usually waste most of their valuable time with information that is either not relevant or outdated. Study4Exam has a fantastic team of subject-matter experts that make sure you always get the most up-to-date preparatory material. Whenever there is a change in the syllabus of the Enterprise Routing and Switching, Specialist exam, our team of experts updates JN0-349 questions and eliminates outdated questions. In this way, we save you money and time.
Do Not Fall for Cheap and Old Juniper JN0-349 Exam Questions
Study4Exam offers Premium High-Quality Exam Questions
Find out what will be covered on the exam and how it will be presented so you can prepare adequately. You can better prepare for the Juniper JN0-349 exam by familiarizing yourself with the types of questions and topics covered on the exam. Don't squander your time studying irrelevant material; instead, focus on what will be on the actual Juniper Data Center Certification exam.
Not Just Questions - Get Real Juniper JN0-349 Exam Experience
Create a schedule that allows you to devote sufficient time each day to studying for the Enterprise Routing and Switching, Specialist exam. Try to cover the complete syllabus of the Juniper Data Center Certification exam. Do a self-assessment of preparation to know your weak spots. Fill these gaps in your preparation with our preparatory material and ace your exam on the first attempt.
Juniper JN0-349 JNCIS-ENT Questions
Q1.
You are a service provider and have multiple customers in a building.
You are installing a new switch that can host all of your customers. However, you would like to ensure that one customer cannot see or broadcast to another customer.
You would also like to have them use a common gateway IP address from the building. What should be used to provide this access?
Q2.
Which mechanism is used to share routes between routing tables?
Q3.
On EX Series devices, what are two software features that accommodate redundancy? (Choose two.)
Q4.
Click the Exhibit button.
You are implementing the network shown in the exhibit. You must ensure that all users can communicate with each other.
What are three steps that should be taken in this scenario? (Choose three.)
Q5.
Referring to the exhibit, which two statements are correct? (Choose two.)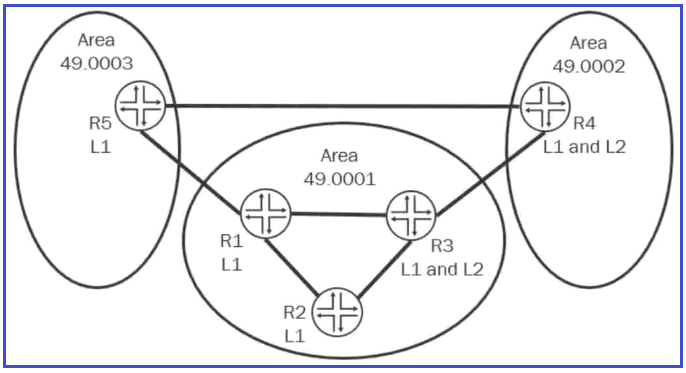 Question: 4
Answer: A, C, E