H12-831_V1.0 Exam Questions
Free H12-831_V1.0 Exam Questions - Huawei H12-831_V1.0 Exam
Huawei H12-831_V1.0 Exam
HCIP-Datacom-Advanced Routing & Switching Technology V1.0
Total Questions: 266
Huawei H12-831_V1.0 Exam - Prepare from Latest, Not Redundant Questions!
Many candidates desire to prepare their Huawei H12-831_V1.0 exam with the help of only updated and relevant study material. But during their research, they usually waste most of their valuable time with information that is either not relevant or outdated. Study4Exam has a fantastic team of subject-matter experts that make sure you always get the most up-to-date preparatory material. Whenever there is a change in the syllabus of the HCIP-Datacom-Advanced Routing & Switching Technology V1.0 exam, our team of experts updates H12-831_V1.0 questions and eliminates outdated questions. In this way, we save you money and time.
Do Not Fall for Cheap and Old Huawei H12-831_V1.0 Exam Questions
Study4Exam offers Premium High-Quality Exam Questions
Find out what will be covered on the exam and how it will be presented so you can prepare adequately. You can better prepare for the Huawei H12-831_V1.0 exam by familiarizing yourself with the types of questions and topics covered on the exam. Don't squander your time studying irrelevant material; instead, focus on what will be on the actual Huawei Certified ICT Professional exam.
Not Just Questions - Get Real Huawei H12-831_V1.0 Exam Experience
Create a schedule that allows you to devote sufficient time each day to studying for the HCIP-Datacom-Advanced Routing & Switching Technology V1.0 exam. Try to cover the complete syllabus of the Huawei Certified ICT Professional exam. Do a self-assessment of preparation to know your weak spots. Fill these gaps in your preparation with our preparatory material and ace your exam on the first attempt.
Huawei H12-831_V1.0 Questions
Q1.
As shown in the figure, configure a backhaul summary route 10.0.0.0/24 on the border route RT1. next hop
to RT2. At the same time, the default route to the external network is configured. At this point, a routing black hole will appear. The following is about routing
Is the black hole statement correct? (multiple choice)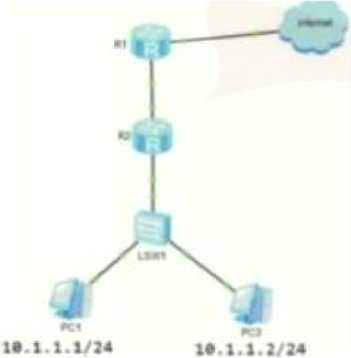 Q2.
Ethernet is a network that supports broadcasting, and once there is a loop in the network, this simple broadcasting mechanism can cause catastrophic consequences. Which of the following phenomena may be caused by loops
Q3.
What characteristics must a high-risk operation plan have?
Q4.
Which of the following reasons may cause the hosts in the same--VLAN LAN to fail to communicate with each other
Q5.
During the daily troubleshooting process, engineers may need to view some alarm information of the device. Run the terminal command to enable the terminal to display the debugging/log/alarm information sent by the information center.
See the explanation below.
Question: 1
Answer: A, C, D
Question: 2
Answer: A, B, C, D
Question: 3
Answer: A, B, C, D
Question: 4
Answer: A, B, C, D