CPEH-001 Exam Questions
Free CPEH-001 Exam Questions - GAQM CPEH-001 Exam
GAQM CPEH-001 Exam
Certified Professional Ethical Hacker (CPEH) Exam
Total Questions: 877
GAQM CPEH-001 Exam - Prepare from Latest, Not Redundant Questions!
Many candidates desire to prepare their GAQM CPEH-001 exam with the help of only updated and relevant study material. But during their research, they usually waste most of their valuable time with information that is either not relevant or outdated. Study4Exam has a fantastic team of subject-matter experts that make sure you always get the most up-to-date preparatory material. Whenever there is a change in the syllabus of the Certified Professional Ethical Hacker (CPEH) Exam , our team of experts updates CPEH-001 questions and eliminates outdated questions. In this way, we save you money and time.
Do Not Fall for Cheap and Old GAQM CPEH-001 Exam Questions
Study4Exam offers Premium High-Quality Exam Questions
Find out what will be covered on the exam and how it will be presented so you can prepare adequately. You can better prepare for the GAQM CPEH-001 exam by familiarizing yourself with the types of questions and topics covered on the exam. Don't squander your time studying irrelevant material; instead, focus on what will be on the actual GAQM Certified Ethical Hacker exam.
Not Just Questions - Get Real GAQM CPEH-001 Exam Experience
Create a schedule that allows you to devote sufficient time each day to studying for the Certified Professional Ethical Hacker (CPEH) Exam . Try to cover the complete syllabus of the GAQM Certified Ethical Hacker exam. Do a self-assessment of preparation to know your weak spots. Fill these gaps in your preparation with our preparatory material and ace your exam on the first attempt.
GAQM CPEH-001 Questions
Q1.
Neil is closely monitoring his firewall rules and logs on a regular basis. Some of the users have complained to Neil that there are a few employees who are visiting offensive web site during work hours, without any consideration for others. Neil knows that he has an up-to-date content filtering system and such access should not be authorized. What type of technique might be used by these offenders to access the Internet without restriction?
Q2.
Most NIDS systems operate in layer 2 of the OSI model. These systems feed raw traffic into a detection engine and rely on the pattern matching and/or statistical analysis to determine what is malicious. Packets are not processed by the host's TCP/IP stack allowing the NIDS to analyze traffic the host would otherwise discard. Which of the following tools allows an attacker to intentionally craft packets to confuse pattern-matching NIDS systems, while still being correctly assembled by the host TCP/IP stack to render the attack payload?
Q3.
During the intelligence gathering phase of a penetration test, you come across a press release by a security products vendor stating that they have signed a multi-million dollar agreement with the company you are targeting. The contract was for vulnerability assessment tools and network based IDS systems. While researching on that particular brand of IDS you notice that its default installation allows it to perform sniffing and attack analysis on one NIC and caters to its management and reporting on another NIC. The sniffing interface is completely unbound from the TCP/IP stack by default. Assuming the defaults were used, how can you detect these sniffing interfaces?
Q4.
You have performed the traceroute below and notice that hops 19 and 20 both show the same IP address. What can be inferred from this output?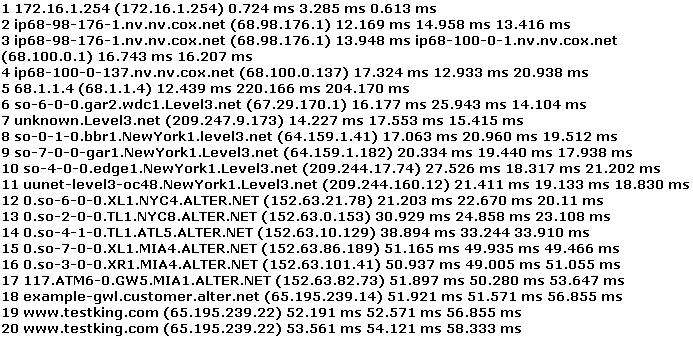 Q5.
What is the tool Firewalk used for?