CPEH-001 Exam Questions
Free CPEH-001 Exam Questions - GAQM CPEH-001 Exam
GAQM CPEH-001 Exam
Certified Professional Ethical Hacker (CPEH) Exam
Total Questions: 877
Based on Official Syllabus Topics of Actual GAQM CPEH-001 Exam
During the preparation, you can be confused about GAQM exam question types, exam pattern, and allocated time to attempt questions of the GAQM Certified Ethical Hacker certification exam. Study4Exam helps you to remove these doubts with 3 formats of its GAQM CPEH-001 exam preparation. We ensure that you will easily pass the GAQM Certified Professional Ethical Hacker (CPEH) Exam either by using CPEH-001 PDF questions or taking the practice exam is web-based and desktop formats. You can prepare CPEH-001 practice questions in PDF format at any time and from any place with smartphones, laptops, or tablets. Preparation evaluation is very helpful to remove mistakes and successfully prepare for the GAQM Certified Ethical Hacker CPEH-001 exam. The GAQM CEH CPEH-001 practice exam is one of the key steps of your exam preparation plan to identify your preparation mistakes, strengthen weaker areas of the preparation, and get familiar with the actual exam environment. Web-based and desktop GAQM CPEH-001 practice exams are available to help you do self-assessment.
How these Free Questions can help you Prepare for the actual GAQM CPEH-001 Exam?
Understand the Actual CPEH-001 Exam Syllabus, Format, and Question Types
Get official information about the syllabus and format of the exam to set an effective study plan. This information helps you to know what type of questions and topics will appear in the GAQM CPEH-001 exam. Don't waste your time and concentrate on such learning content which is expected in the actual exam.
Self-Asses your preparation for the actual GAQM Certified Professional Ethical Hacker (CPEH) Exam
Manage your daily routine to ensure that you have the proper time to study for the GAQM Certified Professional Ethical Hacker (CPEH) Exam every day. Sit in a calm environment and do hard work daily to cover the entire CPEH-001 exam syllabus. It is not possible to study one morning and pass the CPEH-001 exam the next day. If you want to get passing marks on the first attempt, prepare for the GAQM CPEH-001 exam daily.
GAQM CPEH-001 Questions
Q1.
Neil is closely monitoring his firewall rules and logs on a regular basis. Some of the users have complained to Neil that there are a few employees who are visiting offensive web site during work hours, without any consideration for others. Neil knows that he has an up-to-date content filtering system and such access should not be authorized. What type of technique might be used by these offenders to access the Internet without restriction?
Q2.
Most NIDS systems operate in layer 2 of the OSI model. These systems feed raw traffic into a detection engine and rely on the pattern matching and/or statistical analysis to determine what is malicious. Packets are not processed by the host's TCP/IP stack allowing the NIDS to analyze traffic the host would otherwise discard. Which of the following tools allows an attacker to intentionally craft packets to confuse pattern-matching NIDS systems, while still being correctly assembled by the host TCP/IP stack to render the attack payload?
Q3.
During the intelligence gathering phase of a penetration test, you come across a press release by a security products vendor stating that they have signed a multi-million dollar agreement with the company you are targeting. The contract was for vulnerability assessment tools and network based IDS systems. While researching on that particular brand of IDS you notice that its default installation allows it to perform sniffing and attack analysis on one NIC and caters to its management and reporting on another NIC. The sniffing interface is completely unbound from the TCP/IP stack by default. Assuming the defaults were used, how can you detect these sniffing interfaces?
Q4.
You have performed the traceroute below and notice that hops 19 and 20 both show the same IP address. What can be inferred from this output?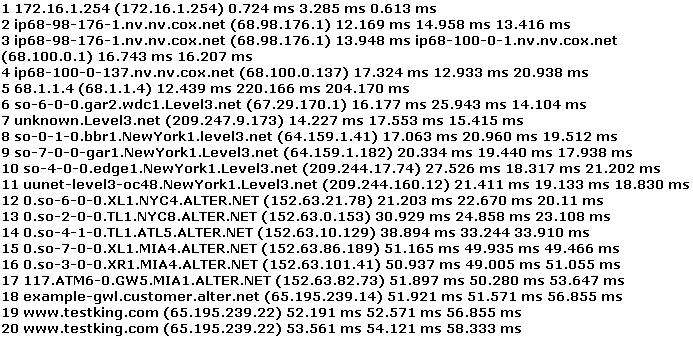 Q5.
What is the tool Firewalk used for?