350-901 DEVCOR Exam Questions
Free 350-901 DEVCOR Exam Questions - Cisco 350-901 Exam
Cisco 350-901 Exam
Developing Applications using Cisco Core Platforms and APIs
Total Questions: 363
Cisco 350-901 Exam - Prepare from Latest, Not Redundant Questions!
Many candidates desire to prepare their Cisco 350-901 exam with the help of only updated and relevant study material. But during their research, they usually waste most of their valuable time with information that is either not relevant or outdated. Study4Exam has a fantastic team of subject-matter experts that make sure you always get the most up-to-date preparatory material. Whenever there is a change in the syllabus of the Developing Applications using Cisco Core Platforms and APIs exam, our team of experts updates 350-901 questions and eliminates outdated questions. In this way, we save you money and time.
Do Not Fall for Cheap and Old Cisco 350-901 Exam Questions
Study4Exam offers Premium High-Quality Exam Questions
Find out what will be covered on the exam and how it will be presented so you can prepare adequately. You can better prepare for the Cisco 350-901 exam by familiarizing yourself with the types of questions and topics covered on the exam. Don't squander your time studying irrelevant material; instead, focus on what will be on the actual Cisco Certified DevNet Professional exam.
Not Just Questions - Get Real Cisco 350-901 Exam Experience
Create a schedule that allows you to devote sufficient time each day to studying for the Developing Applications using Cisco Core Platforms and APIs exam. Try to cover the complete syllabus of the Cisco Certified DevNet Professional exam. Do a self-assessment of preparation to know your weak spots. Fill these gaps in your preparation with our preparatory material and ace your exam on the first attempt.
Cisco 350-901 DEVCOR Questions
Q1.
Refer to the exhibit.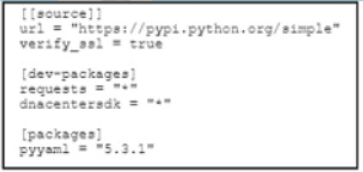 Which type of python dependency file is shown?
Q2.
A developer is working on an enhancement for an application feature and has made changes to a branch called 'devcor-432436127a-enhance4'. When merging the branch to production, conflicts occurred. Which Git command must the developer use to recreate the pre-merge state?
Q3.
An engineer needs to automate the configuration on a Cisco NX-OS switch. The solution must meet these requirements:
* Ansible is used
* The transport protocol is encrypted
* Support for Asynchronous requests.
Which two access mechanisms must be used? (Choose two.)
Q4.
What is a well-defined concept of GDPR compliance?
Q5.
A developer has created a local Docker alpine image that has the image ID 'dockapp432195596ffr' and tagged as 'new'. Which command creates a running container based on the tagged image, with the container port 80 bound to port 8080 on the host?