350-501 SPCOR Exam Questions
Free 350-501 SPCOR Exam Questions - Cisco 350-501 Exam
Cisco 350-501 Exam
Implementing and Operating Cisco Service Provider Network Core Technologies
Total Questions: 370
Cisco 350-501 Exam - Prepare from Latest, Not Redundant Questions!
Many candidates desire to prepare their Cisco 350-501 exam with the help of only updated and relevant study material. But during their research, they usually waste most of their valuable time with information that is either not relevant or outdated. Study4Exam has a fantastic team of subject-matter experts that make sure you always get the most up-to-date preparatory material. Whenever there is a change in the syllabus of the Implementing and Operating Cisco Service Provider Network Core Technologies exam, our team of experts updates 350-501 questions and eliminates outdated questions. In this way, we save you money and time.
Do Not Fall for Cheap and Old Cisco 350-501 Exam Questions
Study4Exam offers Premium High-Quality Exam Questions
Find out what will be covered on the exam and how it will be presented so you can prepare adequately. You can better prepare for the Cisco 350-501 exam by familiarizing yourself with the types of questions and topics covered on the exam. Don't squander your time studying irrelevant material; instead, focus on what will be on the actual Cisco Certified Internetwork Expert exam.
Not Just Questions - Get Real Cisco 350-501 Exam Experience
Create a schedule that allows you to devote sufficient time each day to studying for the Implementing and Operating Cisco Service Provider Network Core Technologies exam. Try to cover the complete syllabus of the Cisco Certified Internetwork Expert exam. Do a self-assessment of preparation to know your weak spots. Fill these gaps in your preparation with our preparatory material and ace your exam on the first attempt.
Cisco 350-501 SPCOR Questions
Q1.
Refer to the exhibit.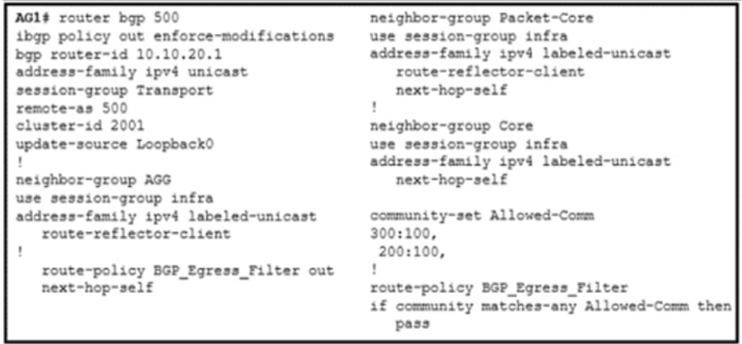 A NOC engineer is configuring label-based forwarding from CSR to the EPC gateway. Cell-site operation and maintenance for IPv4 traffic between 10.20.10.1 and 192.168.10.10 is already up. CR1 and CR2 are configured as route reflectors for AG1 and AG2. Which action completes the configuration?
Q2.
Refer to the exhibit.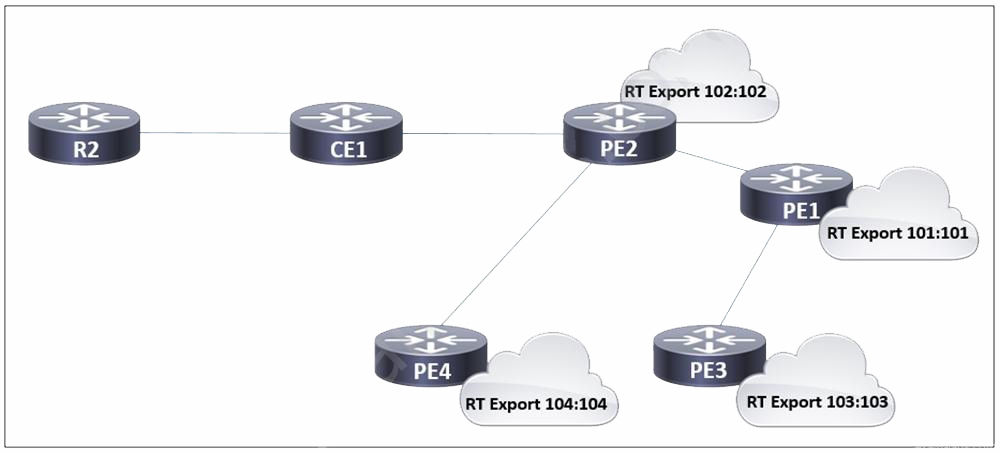 Refer to the exhibit. In the service provider network, routers PE1, PE2, and PE4 have access to the internet and provide access to customer networks. Router PE3 is used for access to other customer systems. In accordance with a new SLA, an engineer is updating settings on this network so that router CE1 accesses the internet via PE1 instead of PE2. Which two tasks must the engineer perform to complete the process? (Choose two.)
Q3.
After troubleshooting multiple outages on the network due to repeated configuration errors, the network architect asked an engineer to enable NETCONF to facilitate future configurations. The configuration must enable syslog messaging to record NETCONF notifications from each of the numerous devices on the network. Which configuration must the engineer apply?
Q4.
Refer to the exhibit.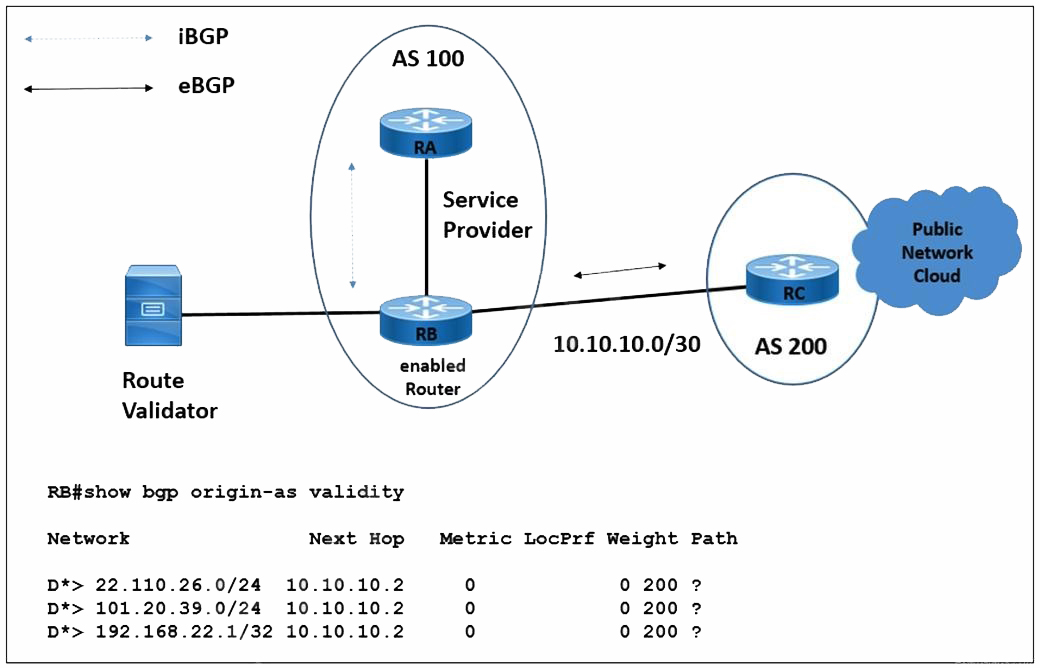 Refer to the exhibit. A network engineer is configuring router RB to secure BGP advertisements against route hijacking activity. RB must validate all prefixes that it receives from origin AS 200 before installing them in the BGP route table. Which configuration meets the requirement?
Q5.
The NOC team must update the BGP forwarding configuration on the network with these requirements:
BGP peers must establish a neighborship with NSF capability and restart the session for the capability to be exchanged after 120 seconds.
BGP peers must delete routes after 360 seconds of inactivity.
Which action meets these requirements?