350-501 SPCOR Exam Questions
Free 350-501 SPCOR Exam Questions - Cisco 350-501 Exam
Cisco 350-501 Exam
Implementing and Operating Cisco Service Provider Network Core Technologies
Total Questions: 370
Cisco 350-501 Exam - Prepare from Latest, Not Redundant Questions!
Many candidates desire to prepare their Cisco 350-501 exam with the help of only updated and relevant study material. But during their research, they usually waste most of their valuable time with information that is either not relevant or outdated. Study4Exam has a fantastic team of subject-matter experts that make sure you always get the most up-to-date preparatory material. Whenever there is a change in the syllabus of the Implementing and Operating Cisco Service Provider Network Core Technologies exam, our team of experts updates 350-501 questions and eliminates outdated questions. In this way, we save you money and time.
Do Not Fall for Cheap and Old Cisco 350-501 Exam Questions
Study4Exam offers Premium High-Quality Exam Questions
Find out what will be covered on the exam and how it will be presented so you can prepare adequately. You can better prepare for the Cisco 350-501 exam by familiarizing yourself with the types of questions and topics covered on the exam. Don't squander your time studying irrelevant material; instead, focus on what will be on the actual Cisco Certified Internetwork Expert exam.
Not Just Questions - Get Real Cisco 350-501 Exam Experience
Create a schedule that allows you to devote sufficient time each day to studying for the Implementing and Operating Cisco Service Provider Network Core Technologies exam. Try to cover the complete syllabus of the Cisco Certified Internetwork Expert exam. Do a self-assessment of preparation to know your weak spots. Fill these gaps in your preparation with our preparatory material and ace your exam on the first attempt.
Cisco 350-501 SPCOR Questions
Q1.
Refer to Exhibit:

A network engineer must update the routing toward the web server with IP address 35.22.13.1. The primary path must be configured via the neighbor router with ID 1.1.1.1. However, local-preference configuration is not permitted on R1. Which task must the engineer perform on R1 to complete the implementation?
Q2.
Refer to the exhibit.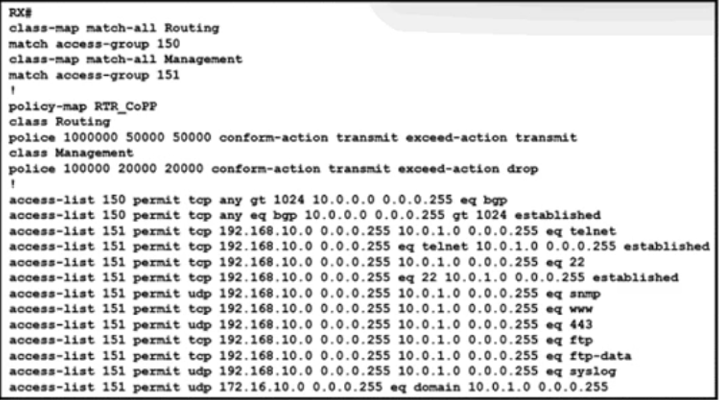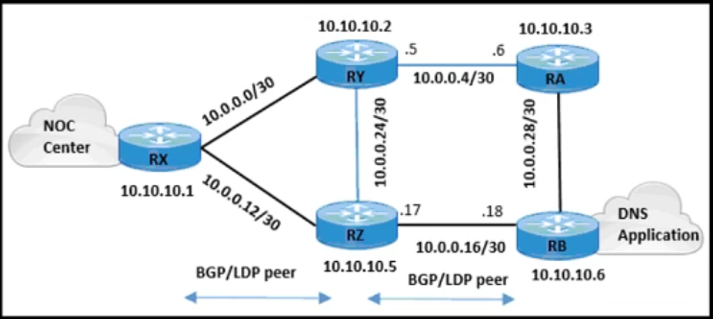 The engineering team wants to limit control traffic on router RX with the following IP address assignments:
* Accepted traffic for router: 10.0.0.0/24
* NOC users IP allocation: 192.168.10.0/24
Which additional configuration must be applied to RX to apply the policy for MSDP?
Q3.
Refer to the exhibit.

Guidelines
-
This is a lab item in which tasks will be performed on virtual devices.
* Refer to the Tasks tab to view the tasks for this lab item.
* Refer to the Topology tab to access the device console(s) and perform the tasks.
* Console access is available for all required devices by clicking the device icon or using the tab(s) above the console window.
* All necessary preconfigurations have been applied.
* Do not change the enable password or hostname for any device.
* Save your configurations to NVRAM before moving to the next item.
* Click Next at the bottom of the screen to submit this lab and move to the nextquestion.
* When Next is clicked, the lab closes and cannot be reopened.
Topology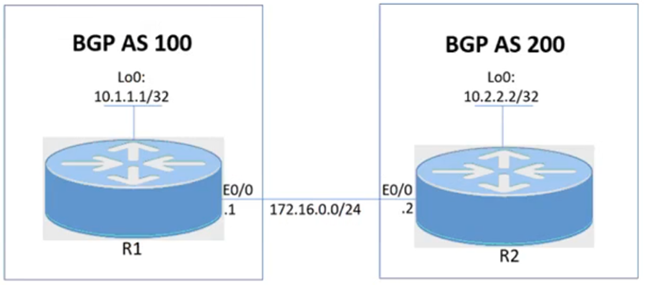 Tasks
-
R1 and R2 are having issues forming an eBGP neighbor relationship. Troubleshoot and resolve the issue to achieve these goals:
1. Configure R1 and R2 to form a BGP neighborship using their Loopback interfaces.
2. Form the neighbor relationship using a BGP multihop mechanism. Use minimal values to solve the issue.
Q4.
An ISP Is Implementing end-to-end fault monitoring for a customer based on the IEEE 802.3ah standard. The solution must detect when 15 or more corrupted Ethernet packets arrive within 10 ms and stop propagating traffic through the ISP backbone network or to the customer side. Which configuration must the ISP engineer apply?
Q5.
Refer to the exhibit.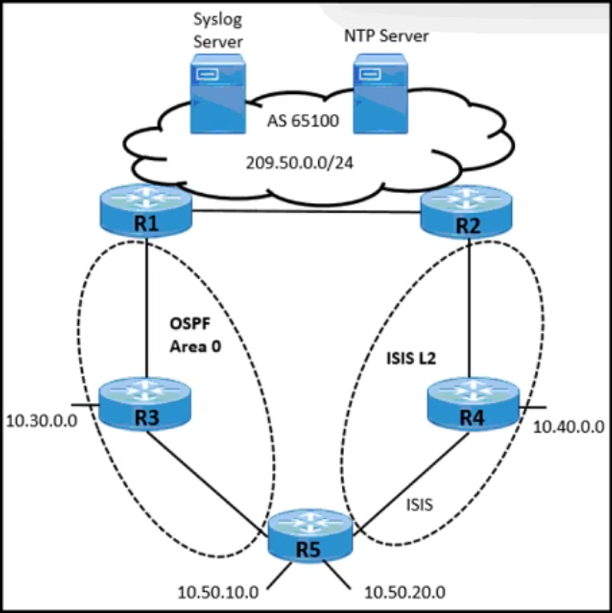 A network operator working for a telecommunication company with an employee ID: 4350:47:853 must implement an IGP solution based on these requirements:
* Subnet 10.50.10.0 traffic must exit through the R1 router to connect with the Syslog server.
* Subnet 10.50.20.0 traffic must exit through the R2 router to connect with the NTP server.
* In case of link failure between R2 and R4, traffic must be routed via R1 and R3.
Which two configurations must be implemented on R5 to meet these requirements? (Choose two.)