350-201 CBRCOR Exam Questions
Free 350-201 CBRCOR Exam Questions - Cisco 350-201 Exam
Cisco 350-201 Exam
Performing CyberOps Using Core Security Technologies
Total Questions: 139
Cisco 350-201 Exam - Prepare from Latest, Not Redundant Questions!
Many candidates desire to prepare their Cisco 350-201 exam with the help of only updated and relevant study material. But during their research, they usually waste most of their valuable time with information that is either not relevant or outdated. Study4Exam has a fantastic team of subject-matter experts that make sure you always get the most up-to-date preparatory material. Whenever there is a change in the syllabus of the Performing CyberOps Using Core Security Technologies exam, our team of experts updates 350-201 questions and eliminates outdated questions. In this way, we save you money and time.
Do Not Fall for Cheap and Old Cisco 350-201 Exam Questions
Study4Exam offers Premium High-Quality Exam Questions
Find out what will be covered on the exam and how it will be presented so you can prepare adequately. You can better prepare for the Cisco 350-201 exam by familiarizing yourself with the types of questions and topics covered on the exam. Don't squander your time studying irrelevant material; instead, focus on what will be on the actual Cisco Certified CyberOps Professional exam.
Not Just Questions - Get Real Cisco 350-201 Exam Experience
Create a schedule that allows you to devote sufficient time each day to studying for the Performing CyberOps Using Core Security Technologies exam. Try to cover the complete syllabus of the Cisco Certified CyberOps Professional exam. Do a self-assessment of preparation to know your weak spots. Fill these gaps in your preparation with our preparatory material and ace your exam on the first attempt.
Cisco 350-201 CBRCOR Questions
Q1.
An engineer received multiple reports from users trying to access a company website and instead of landing on the website, they are redirected to a malicious website that asks them to fill in sensitive personal dat
a. Which type of attack is occurring?
Q2.
Which bash command will print all lines from the ''colors.txt'' file containing the non case-sensitive pattern ''Yellow''?
Q3.
Refer to the exhibit.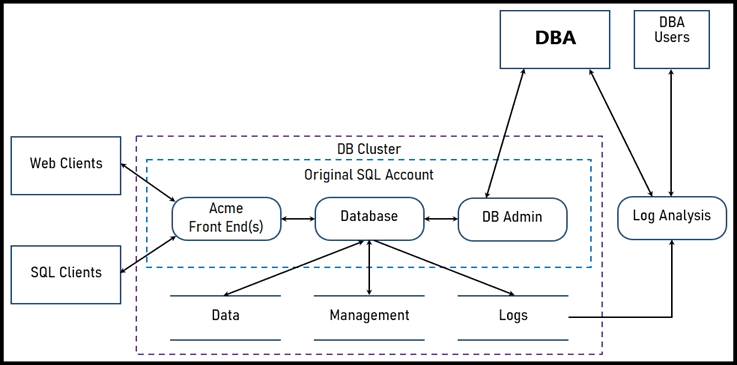 Two types of clients are accessing the front ends and the core database that manages transactions, access control, and atomicity. What is the threat model for the SQL database?
Q4.
An organization suffered a security breach in which the attacker exploited a Netlogon Remote Protocol vulnerability for further privilege escalation. Which two actions should the incident response team take to
prevent this type of attack from reoccurring? (Choose two.)
Q5.
A security architect in an automotive factory is working on the Cyber Security Management System and is implementing procedures and creating policies to prevent attacks. Which standard must the architect apply?