300-820 CLCEI Exam Questions
Free 300-820 CLCEI Exam Questions - Cisco 300-820 Exam
Cisco 300-820 Exam
Implementing Cisco Collaboration Cloud and Edge Solutions
Total Questions: 96
Based on Official Syllabus Topics of Actual Cisco 300-820 Exam
During the preparation, you can be confused about Cisco exam question types, exam pattern, and allocated time to attempt questions of the Cisco Certified Network Professional certification exam. Study4Exam helps you to remove these doubts with 3 formats of its Cisco 300-820 exam preparation. We ensure that you will easily pass the Cisco Implementing Cisco Collaboration Cloud and Edge Solutions exam either by using 300-820 PDF questions or taking the practice exam is web-based and desktop formats. You can prepare 300-820 practice questions in PDF format at any time and from any place with smartphones, laptops, or tablets. Preparation evaluation is very helpful to remove mistakes and successfully prepare for the Cisco Certified Network Professional 300-820 exam. The Cisco CCNP 300-820 practice exam is one of the key steps of your exam preparation plan to identify your preparation mistakes, strengthen weaker areas of the preparation, and get familiar with the actual exam environment. Web-based and desktop Cisco 300-820 practice exams are available to help you do self-assessment.
How these Free Questions can help you Prepare for the actual Cisco 300-820 Exam?
Understand the Actual 300-820 Exam Syllabus, Format, and Question Types
Get official information about the syllabus and format of the exam to set an effective study plan. This information helps you to know what type of questions and topics will appear in the Cisco 300-820 exam. Don't waste your time and concentrate on such learning content which is expected in the actual exam.
Self-Asses your preparation for the actual Cisco Implementing Cisco Collaboration Cloud and Edge Solutions Exam
Manage your daily routine to ensure that you have the proper time to study for the Cisco Implementing Cisco Collaboration Cloud and Edge Solutions exam every day. Sit in a calm environment and do hard work daily to cover the entire 300-820 exam syllabus. It is not possible to study one morning and pass the 300-820 exam the next day. If you want to get passing marks on the first attempt, prepare for the Cisco 300-820 exam daily.
Cisco 300-820 CLCEI Questions
Q1.
D18912E1457D5D1DDCBD40AB3BF70D5D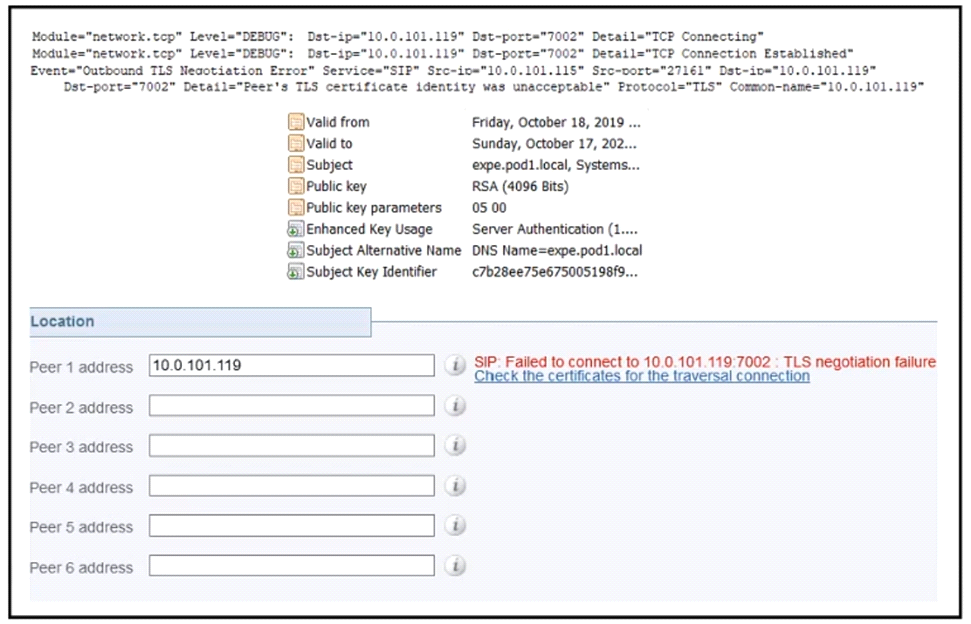 Refer to the exhibit showing logs from the Expressway-C, a copy of the Expressway-E certificate, and the UC traversal zone configuration for the Expressway-C. An office administrator is deploying mobile and remote access and sees an issue with the UC traversal zone. The zone is showing ''TLS negotiation failure''. What is causing this issue?
Q2.
Refer to the exhibit.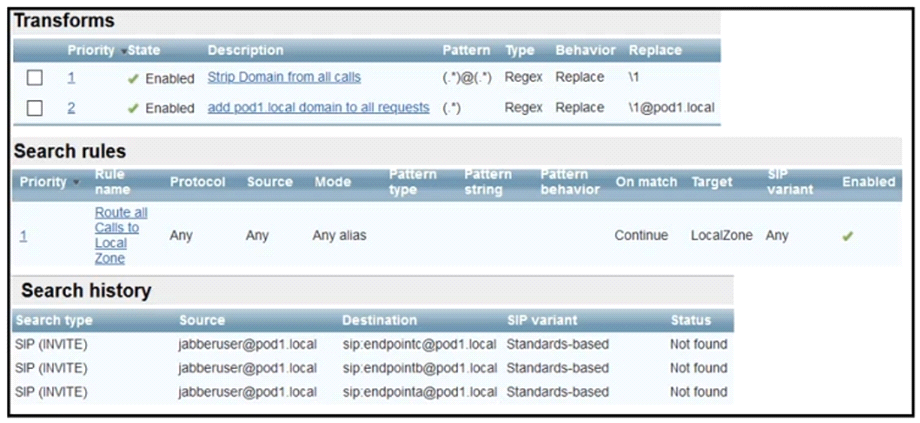 Calls to locally registered endpoints are failing. At present, there are two endpoints
registered locally to this Expressway. An H.323 endpoint with an alias of ''EndpointA'' is registered, and a SIP endpoint with an alias of ''EndpointB@pod1.local'' is also registered. How is this issue resolved?
Q3.
A call is sent by Cisco UCM to Expressway with a URI of 75080001@expc1a.pod8.test.lab. If (7508...)
@expc1a\.pod8\.test\.lab.* is the pattern string, what would be the replacement string of the transform in Expressway to re-write the call so that it becomes 75080001@conf.pod8.test.lab?
Q4.
Which complication does a NAT introduce in SDP for a SIP call?
Q5.
Refer to the exhibit.
Which two outbound connections should an administrator configure on the internal firewall? (Choose two.)