300-730 SVPN Exam Questions
Free 300-730 SVPN Exam Questions - Cisco 300-730 Exam
Cisco 300-730 Exam
Implementing Secure Solutions with Virtual Private Networks
Total Questions: 175
Cisco 300-730 Exam - Prepare from Latest, Not Redundant Questions!
Many candidates desire to prepare their Cisco 300-730 exam with the help of only updated and relevant study material. But during their research, they usually waste most of their valuable time with information that is either not relevant or outdated. Study4Exam has a fantastic team of subject-matter experts that make sure you always get the most up-to-date preparatory material. Whenever there is a change in the syllabus of the Implementing Secure Solutions with Virtual Private Networks exam, our team of experts updates 300-730 questions and eliminates outdated questions. In this way, we save you money and time.
Do Not Fall for Cheap and Old Cisco 300-730 Exam Questions
Study4Exam offers Premium High-Quality Exam Questions
Find out what will be covered on the exam and how it will be presented so you can prepare adequately. You can better prepare for the Cisco 300-730 exam by familiarizing yourself with the types of questions and topics covered on the exam. Don't squander your time studying irrelevant material; instead, focus on what will be on the actual Cisco Certified Network Professional exam.
Not Just Questions - Get Real Cisco 300-730 Exam Experience
Create a schedule that allows you to devote sufficient time each day to studying for the Implementing Secure Solutions with Virtual Private Networks exam. Try to cover the complete syllabus of the Cisco Certified Network Professional exam. Do a self-assessment of preparation to know your weak spots. Fill these gaps in your preparation with our preparatory material and ace your exam on the first attempt.
Cisco 300-730 SVPN Questions
Q1.
A user is trying to log in to a Cisco ASA using the clientless SSLVPN feature and receives the error message "clientless (browser) SSLVPN access is not allowed". Which step should the Cisco ASA administrator take to resolve this issue?
Q2.
Refer to the exhibit.

A Cisco ASA is configured as a client to a router running as a FlexVPN server. The router is configured with a virtual template to terminate FlexVPN clients. Traffic between networks 192.168.0.0/24 and 172.16.20.0/24 does not work as expected. Based on the show crypto ikev2 sa output collected from the Cisco ASA in the exhibit, what is the solution to this issue?
Q3.
An engineer has successfully established a Phase 1 and Phase 2 tunnel between two sites. Site A has internal subnet 192.168.0.0/24 and Site B has internal subnet 10.0.0.0/24. The engineer notices that no packets are decrypted at Site B. Pings to 192.168.0.1 from internal Site B devices make it to the Site B router, and the Site A router has incrementing encrypt and decrypt counters. What must be done to ensure bidirectional communication between both sites?
Q4.
Refer to the exhibit.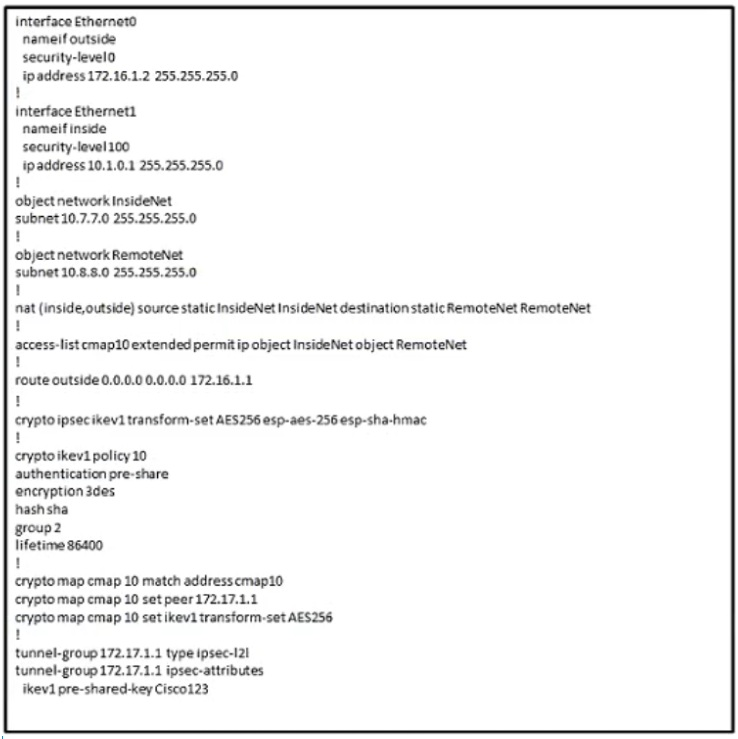 An engineer is building an IKEv1 tunnel to a peer Cisco ASA, but the tunnel is failing. Based on the configuration in the exhibit, which action must be taken to allow the VPN tunnel to come up?
Q5.
Which DMVPN feature allows spokes to be deployed with dynamically assigned public IP addresses?