300-710 SNCF Exam Questions
Free 300-710 SNCF Exam Questions - Cisco 300-710 Exam
Cisco 300-710 Exam
Securing Networks with Cisco Firepower
Total Questions: 260
Cisco 300-710 Exam - Prepare from Latest, Not Redundant Questions!
Many candidates desire to prepare their Cisco 300-710 exam with the help of only updated and relevant study material. But during their research, they usually waste most of their valuable time with information that is either not relevant or outdated. Study4Exam has a fantastic team of subject-matter experts that make sure you always get the most up-to-date preparatory material. Whenever there is a change in the syllabus of the Securing Networks with Cisco Firepower exam, our team of experts updates 300-710 questions and eliminates outdated questions. In this way, we save you money and time.
Do Not Fall for Cheap and Old Cisco 300-710 Exam Questions
Study4Exam offers Premium High-Quality Exam Questions
Find out what will be covered on the exam and how it will be presented so you can prepare adequately. You can better prepare for the Cisco 300-710 exam by familiarizing yourself with the types of questions and topics covered on the exam. Don't squander your time studying irrelevant material; instead, focus on what will be on the actual Cisco Certified Network Professional exam.
Not Just Questions - Get Real Cisco 300-710 Exam Experience
Create a schedule that allows you to devote sufficient time each day to studying for the Securing Networks with Cisco Firepower exam. Try to cover the complete syllabus of the Cisco Certified Network Professional exam. Do a self-assessment of preparation to know your weak spots. Fill these gaps in your preparation with our preparatory material and ace your exam on the first attempt.
Cisco 300-710 SNCF Questions
Q1.
A network administrator is troubleshooting access to a website hosted behind a Cisco FTD device External clients cannot access the web server via HTTPS The IP address configured on the web server is 192 168 7.46 The administrator is running the command capture CAP interface outside match ip any 192.168.7.46 255.255.255.255 but cannot see any traffic in the capture Why is this occurring?
Q2.
A Cisco FMC administrator wants to configure fastpathing of trusted network traffic to increase performance. In which type of policy would the administrator configure this feature?
Q3.
An administrator is adding a QoS policy to a Cisco FTD deployment. When a new rule is added to the policy and QoS is applied on 'Interfaces in Destination Interface Objects", no interface objects are available What is the problem?
Q4.
An engineer wants to perform a packet capture on the Cisco FTD to confirm that the host using IP address 192 168.100.100 has the MAC address of 0042 7734.103 to help troubleshoot a connectivity issue What is the correct tcpdump command syntax to ensure that the MAC address appears in the packet capture output?
Q5.
Refer to the exhibit.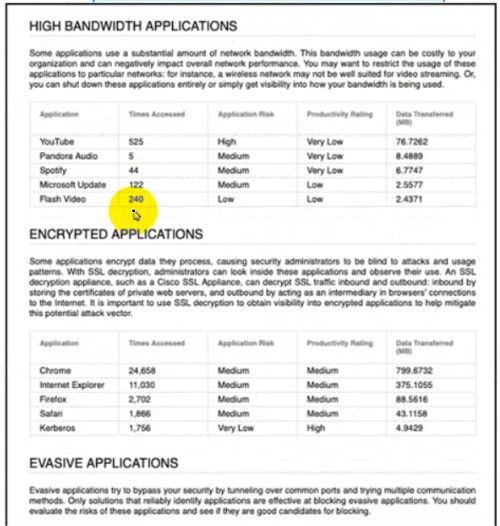 An engineer is analyzing a Network Risk Report from Cisco FMC. Which application must the engineer take immediate action against to prevent unauthorized network use?