300-620 DCACI Exam Questions
Free 300-620 DCACI Exam Questions - Cisco 300-620 Exam
Cisco 300-620 Exam
Implementing Cisco Application Centric Infrastructure
Total Questions: 133
Based on Official Syllabus Topics of Actual Cisco 300-620 Exam
During the preparation, you can be confused about Cisco exam question types, exam pattern, and allocated time to attempt questions of the Cisco Certified Network Professional certification exam. Study4Exam helps you to remove these doubts with 3 formats of its Cisco 300-620 exam preparation. We ensure that you will easily pass the Cisco Implementing Cisco Application Centric Infrastructure exam either by using 300-620 PDF questions or taking the practice exam is web-based and desktop formats. You can prepare 300-620 practice questions in PDF format at any time and from any place with smartphones, laptops, or tablets. Preparation evaluation is very helpful to remove mistakes and successfully prepare for the Cisco Certified Network Professional 300-620 exam. The Cisco CCNP 300-620 practice exam is one of the key steps of your exam preparation plan to identify your preparation mistakes, strengthen weaker areas of the preparation, and get familiar with the actual exam environment. Web-based and desktop Cisco 300-620 practice exams are available to help you do self-assessment.
How these Free Questions can help you Prepare for the actual Cisco 300-620 Exam?
Understand the Actual 300-620 Exam Syllabus, Format, and Question Types
Get official information about the syllabus and format of the exam to set an effective study plan. This information helps you to know what type of questions and topics will appear in the Cisco 300-620 exam. Don't waste your time and concentrate on such learning content which is expected in the actual exam.
Self-Asses your preparation for the actual Cisco Implementing Cisco Application Centric Infrastructure Exam
Manage your daily routine to ensure that you have the proper time to study for the Cisco Implementing Cisco Application Centric Infrastructure exam every day. Sit in a calm environment and do hard work daily to cover the entire 300-620 exam syllabus. It is not possible to study one morning and pass the 300-620 exam the next day. If you want to get passing marks on the first attempt, prepare for the Cisco 300-620 exam daily.
Cisco 300-620 DCACI Questions
Q1.
A network engineer must backup the PRODUCTION tenant. The configuration backup should be stored on the APIC using a markup language and contain all secure information. Which export policy must be used to meet these requirement?
A)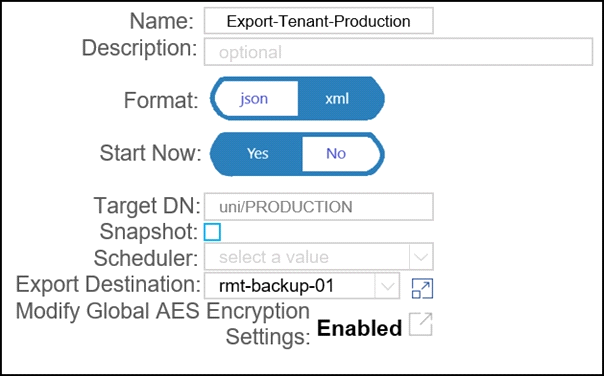 B)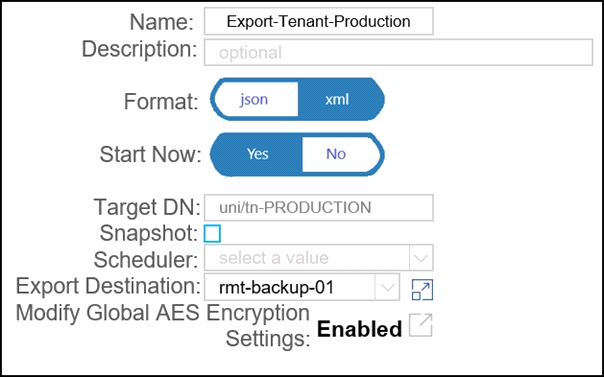 C)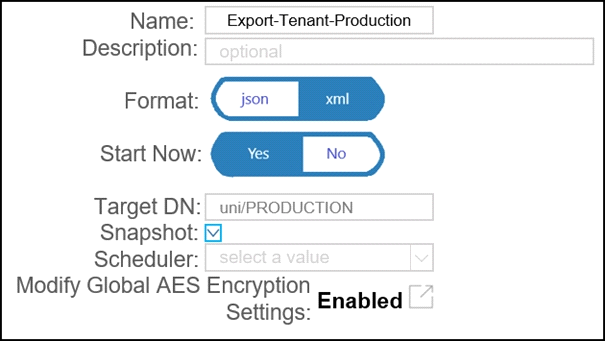 D)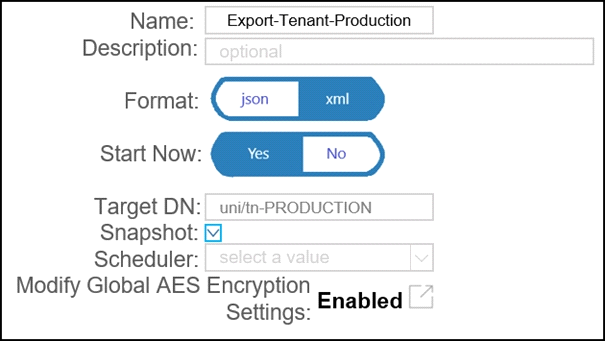 Q2.
A customer implements RBAC on a Cisco APIC using a Windows RADIUS server that is configured with network control policies. The APIC is as follows:
Tenant = TenantX
Security Domain = Tenantx-SD
User = X
The customer requires User X to have access to TenantX only, without any extra privilege in the Cisco ACI fabric domain. Which Cisco AV pair must be implemented on the RADIUS server to meet these requirement?
Q3.
An administrator must migrate the vSphere Management VMkernel of all ESXi hosts in the production cluster from the standard default virtual switch to a VDS that is integrated with APIC in a VMM domain. Which action must be completed in this scenario?
Q4.
In-band is currently configured and used to manage the Cisco ACI fabric. The requirement is for leaf and spine switches to use out-of-band management for NTP protocol. Which action accomplishes this goal?
Q5.
An engineer is configuring ACI VMM domain integration with Cisco UCS-B Series. Which type of port channel policy must be configured in the vSwitch policy?