300-610 DCID Exam Questions
Free 300-610 DCID Exam Questions - Cisco 300-610 Exam
Cisco 300-610 Exam
Designing Cisco Data Center Infrastructure
Total Questions: 204
Cisco 300-610 Exam - Prepare from Latest, Not Redundant Questions!
Many candidates desire to prepare their Cisco 300-610 exam with the help of only updated and relevant study material. But during their research, they usually waste most of their valuable time with information that is either not relevant or outdated. Study4Exam has a fantastic team of subject-matter experts that make sure you always get the most up-to-date preparatory material. Whenever there is a change in the syllabus of the Designing Cisco Data Center Infrastructure exam, our team of experts updates 300-610 questions and eliminates outdated questions. In this way, we save you money and time.
Do Not Fall for Cheap and Old Cisco 300-610 Exam Questions
Study4Exam offers Premium High-Quality Exam Questions
Find out what will be covered on the exam and how it will be presented so you can prepare adequately. You can better prepare for the Cisco 300-610 exam by familiarizing yourself with the types of questions and topics covered on the exam. Don't squander your time studying irrelevant material; instead, focus on what will be on the actual Cisco Certified Network Professional exam.
Not Just Questions - Get Real Cisco 300-610 Exam Experience
Create a schedule that allows you to devote sufficient time each day to studying for the Designing Cisco Data Center Infrastructure exam. Try to cover the complete syllabus of the Cisco Certified Network Professional exam. Do a self-assessment of preparation to know your weak spots. Fill these gaps in your preparation with our preparatory material and ace your exam on the first attempt.
Cisco 300-610 DCID Questions
Q1.
Refer to the exhibit A Cisco engineer is configuring a next-generation Cisco HyperFlex HX data platform with 2 x Cisco UCS 6248UP fabric interconnects. 8 x Cisco HX-Series HX240c-M4SX servers, plus 8 x Cisco UCS B200-M4 blade servers Cisco UCS 5108 blade chassis, and Cisco UCS 2204XP fabric extenders The solution is configured with HX Release 4 5(2a) using VMware ESXi 7 0 U2 After the engineer migrates all customer VMs to the new solution platform, the engineer decides to create HX Native snapshots for all the VMs The engineer performs the operation and notices that some of the VMs are not creating snapshots. What is the most probable reason that the HX Native snapshots are not created?
Q2.
The network infrastructure team is beginning to automate routine tasks within the Cisco ACI fabric and is searching for the appropriate solution The solution must not require any additional software installed on the Cisco APIC Networking team members lack automation experience and prefer to use a tool that does not require in-depth programming knowledge Finally configuration within the Cisco ACI fabric is rarely modified or removed Which solution must the team choose?
Q3.
A Cisco engineer is developing a custom application that can run natively in Cisco NX-OS on Nexus 9000 and Nexus 3000 platforms For the NX-SDK application to run the engineer enables the NX-SDK feature on the device Then the NX-SDK is imported into the application via an import nx_sdk_py statement. The engineer creates custom CLI commands and defines custom CLI command syntax within the sdkThread function When CLI commands originate from an NX-SDK application what class is this?
Q4.
An engineer must provide Layer 2 adjacency between data centers that are in two locations and separated by a routed network The adjacency must be based on Cisco Nexus 7000 Series Switches The solution must offload learning of host reachability information to the control plane to avoid excessive flood and learn congestion Also the data center in one of the sites experiences a large volume of unknown unicast traffic that the solution must mitigate Which data center interconnect technology meets these requirements?
Q5.
Refer to the exhibit.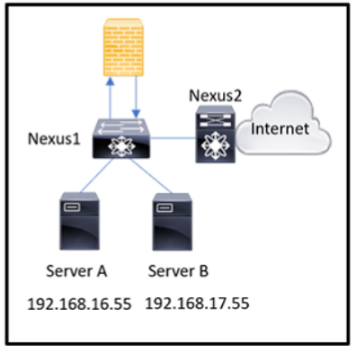 The Cisco Nexus Series Switch with hostname Nexus! is the default gateway for server A and server B Both servers must have reachability to the internet; however, server A internet traffic must pass through the firewall for deep packet inspection. Also, the firewall must inspect any communication between server A and server B. Which solution must be applied to separate the data plane path for server A and server B?