300-435 ENAUTO Exam Questions
Free 300-435 ENAUTO Exam Questions - Cisco 300-435 Exam
Cisco 300-435 Exam
Automating and Programming Cisco Enterprise Solutions
Total Questions: 125
Cisco 300-435 Exam - Prepare from Latest, Not Redundant Questions!
Many candidates desire to prepare their Cisco 300-435 exam with the help of only updated and relevant study material. But during their research, they usually waste most of their valuable time with information that is either not relevant or outdated. Study4Exam has a fantastic team of subject-matter experts that make sure you always get the most up-to-date preparatory material. Whenever there is a change in the syllabus of the Automating and Programming Cisco Enterprise Solutions exam, our team of experts updates 300-435 questions and eliminates outdated questions. In this way, we save you money and time.
Do Not Fall for Cheap and Old Cisco 300-435 Exam Questions
Study4Exam offers Premium High-Quality Exam Questions
Find out what will be covered on the exam and how it will be presented so you can prepare adequately. You can better prepare for the Cisco 300-435 exam by familiarizing yourself with the types of questions and topics covered on the exam. Don't squander your time studying irrelevant material; instead, focus on what will be on the actual Cisco Certified DevNet Professional exam.
Not Just Questions - Get Real Cisco 300-435 Exam Experience
Create a schedule that allows you to devote sufficient time each day to studying for the Automating and Programming Cisco Enterprise Solutions exam. Try to cover the complete syllabus of the Cisco Certified DevNet Professional exam. Do a self-assessment of preparation to know your weak spots. Fill these gaps in your preparation with our preparatory material and ace your exam on the first attempt.
Cisco 300-435 ENAUTO Questions
Q1.
Refer to the exhibit.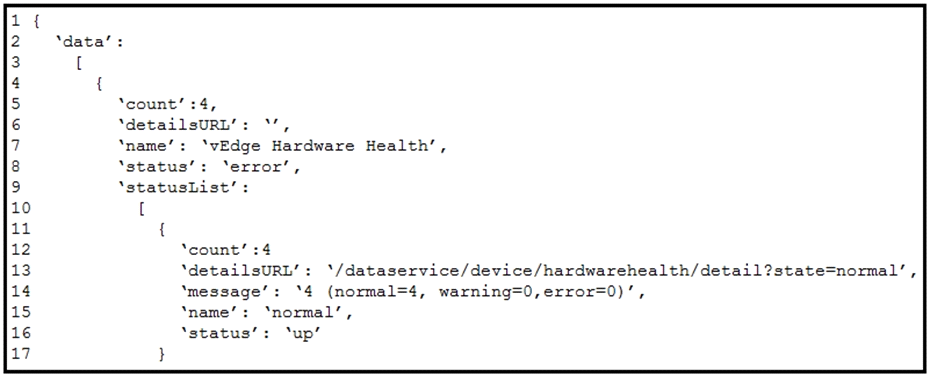 Cisco SD-WAN deployment must be fixed using vManage APIs. A call to vEdge Hardware
Health API returns the data in the exhibit (only a portion is shown). If the JSON shown in the exhibit is
converted to a Python dictionary named ''d'', how is the ''status'' property referenced?
Q2.
Refer to the exhibit.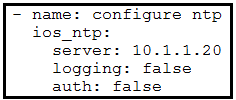 NTP server 10.1.1.20 must be configured on the target Cisco IOS XE device without using
authentication and logging. Which state should be added on a new line at the end of the Ansible task?
Q3.
Refer to the exhibit. A Python script is used to configure a Cisco IOS XE router. The Loopback2 interface currently has a description of Management2 and an IP address/netmask of 10.222.34.22/32. What is the result of executing the script?
Q4.
Which solution is used for automating the configuration of a device when it is first powered on, using DHCP and TFTP?
Q5.
Refer to the exhibit. Interfaces named Loopback0, Loopback1, and Loopback2 must be created and enabled on a Cisco IOS XE target device in the lab group. Which loop must be added to the end of the Ansible ''create int'' task?