CIMAPRA17-BA2-1 Exam Questions
Free CIMAPRA17-BA2-1 Exam Questions - CIMA CIMAPRA17-BA2-1 Exam
CIMA CIMAPRA17-BA2-1 Exam
BA2 - Fundamentals of Management Accounting
Total Questions: 382
CIMAPRA17-BA2-1 Exam - Prepare from Latest, Not Redundant Questions!
Many candidates desire to prepare their CIMAPRA17-BA2-1 exam with the help of only updated and relevant study material. But during their research, they usually waste most of their valuable time with information that is either not relevant or outdated. Study4Exam has a fantastic team of subject-matter experts that make sure you always get the most up-to-date preparatory material. Whenever there is a change in the syllabus of the BA2 - Fundamentals of Management Accounting exam, our team of experts updates CIMAPRA17-BA2-1 questions and eliminates outdated questions. In this way, we save you money and time.
Do Not Fall for Cheap and Old CIMAPRA17-BA2-1 Exam Questions
Study4Exam offers Premium High-Quality Exam Questions
Find out what will be covered on the exam and how it will be presented so you can prepare adequately. You can better prepare for the CIMAPRA17-BA2-1 exam by familiarizing yourself with the types of questions and topics covered on the exam. Don't squander your time studying irrelevant material; instead, focus on what will be on the actual CIMA Certificate in Business Accounting exam.
Not Just Questions - Get Real CIMAPRA17-BA2-1 Exam Experience
Create a schedule that allows you to devote sufficient time each day to studying for the BA2 - Fundamentals of Management Accounting exam. Try to cover the complete syllabus of the CIMA Certificate in Business Accounting exam. Do a self-assessment of preparation to know your weak spots. Fill these gaps in your preparation with our preparatory material and ace your exam on the first attempt.
CIMA CIMAPRA17-BA2-1 Questions
Q1.
Which of the following is NOT a characteristic of useful operational level information?
Q2.
A company uses an integrated accounting system. The following data relate to the latest period.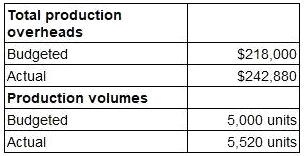 At the end of the period, the entry in the production overhead control account in respect of under or over absorbed overheads will be:
Q3.
According to CIMA's Code of Ethics, CIMA members should not allow bias, conflict of interest of the influence of other people to override their professional judgement.
This is an example of:
Q4.
The budget and actual cost statements for the production department for the latest period were as follows.

Notes.
The 10% increase in production was required to meet unexpected additional sales demand.
The production manager is responsible for negotiating the price of materials with suppliers.
The normal working time is 900 hours per period. Any overtime worked above these 900 hours is paid at a premium of 50%.
In preparing the flexible budget for the latest period, which TWO of the following statements are correct? (Choose two.)
Q5.
A company is appraising two projects. Both projects are for five years. Details of the two projects are as follows.

Based on the above information, which of the following statements is correct?