TM12 Exam Questions
Free TM12 Exam Questions - BCS TM12 Exam
BCS TM12 Exam
ISTQB-BCS Certified Tester Advanced Level- Test Manager
Total Questions: 65
Based on Official Syllabus Topics of Actual BCS TM12 Exam
During the preparation, you can be confused about BCS exam question types, exam pattern, and allocated time to attempt questions of the BCS Test Manager certification exam. Study4Exam helps you to remove these doubts with 3 formats of its BCS TM12 exam preparation. We ensure that you will easily pass the BCS ISTQB-BCS Certified Tester Advanced Level- Test Manager exam either by using TM12 PDF questions or taking the practice exam is web-based and desktop formats. You can prepare TM12 practice questions in PDF format at any time and from any place with smartphones, laptops, or tablets. Preparation evaluation is very helpful to remove mistakes and successfully prepare for the BCS Test Manager TM12 exam. The BCSTest Manager TM12 practice exam is one of the key steps of your exam preparation plan to identify your preparation mistakes, strengthen weaker areas of the preparation, and get familiar with the actual exam environment. Web-based and desktop BCS TM12 practice exams are available to help you do self-assessment.
How these Free Questions can help you Prepare for the actual BCS TM12 Exam?
Understand the Actual TM12 Exam Syllabus, Format, and Question Types
Get official information about the syllabus and format of the exam to set an effective study plan. This information helps you to know what type of questions and topics will appear in the BCS TM12 exam. Don't waste your time and concentrate on such learning content which is expected in the actual exam.
Self-Asses your preparation for the actual BCS ISTQB-BCS Certified Tester Advanced Level- Test Manager Exam
Manage your daily routine to ensure that you have the proper time to study for the BCS ISTQB-BCS Certified Tester Advanced Level- Test Manager exam every day. Sit in a calm environment and do hard work daily to cover the entire TM12 exam syllabus. It is not possible to study one morning and pass the TM12 exam the next day. If you want to get passing marks on the first attempt, prepare for the BCS TM12 exam daily.
BCS TM12 Questions
Q1.
Assume you have some data related to confirmation testing during system testing of a past project.
In that project 240 bug reports have been opened once, 80 were opened twice, 10 were opened three times and no bug reports have been opened more than three times.
You estimate that a bug report, which has failed its confirmation test, costs, on average, 3 person-hours.
Which of the following statements correctly describe the value of these confirmatory testing activities based on cost of quality?
Number of correct responses: 1
Q2.
For which of the following activities would the costs be classified as a cost of detection?
Number of correct responses: 1
Q3.
You are managing the system testing for a SOA based system. The integrated system consists of several subsystems:
- a SOA middleware
- a CRM (Customer Relationship Management) system
- a BRM (Billing and Revenue Management) system
- a SMS (Subscriber Management System) system
and you performed a risk analysis based on these subsystems.
At the end of the scheduled period for test execution you produce a first classical report based on the traditional metrics of testing. Test pass/fail status and bug status (open/resolved) That table provides you a distorted picture of the quality risk, because there is no indication of the risk level of the failed tests, the tests not run, or the open bugs. Thus, you produce the following table to solve this distortion issue:

In the table above, where you have introduced the concept of risk weighting, the highest risk test or bug report has a score of 1, while the lowest risk test or bug report has a score of 0.04.
Which of the following subsystems, based on the risk scores of the table, is most risky?
Number of correct responses: 1
Q4.
After the presentation, you are asked to explain the chart.
Assume you have applied a full risk-based testing strategy.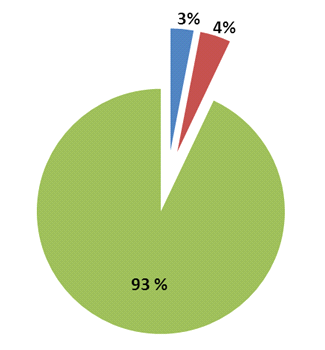 Which of the following answers would you expect to best describe the pie chart?
Number of correct responses: 1
Q5.
Which one of the following metrics to be produced needs traceability between the test cases and each item in a proper test basis?
Number of correct responses: 1