37820X Exam Questions
Free 37820X Exam Questions - Avaya 37820X Exam
Avaya 37820X Exam
Avaya Midsize Solution Design Exam
Total Questions: 65
Avaya 37820X Exam - Prepare from Latest, Not Redundant Questions!
Many candidates desire to prepare their Avaya 37820X exam with the help of only updated and relevant study material. But during their research, they usually waste most of their valuable time with information that is either not relevant or outdated. Study4Exam has a fantastic team of subject-matter experts that make sure you always get the most up-to-date preparatory material. Whenever there is a change in the syllabus of the Avaya Midsize Solution Design Exam , our team of experts updates 37820X questions and eliminates outdated questions. In this way, we save you money and time.
Do Not Fall for Cheap and Old Avaya 37820X Exam Questions
Study4Exam offers Premium High-Quality Exam Questions
Find out what will be covered on the exam and how it will be presented so you can prepare adequately. You can better prepare for the Avaya 37820X exam by familiarizing yourself with the types of questions and topics covered on the exam. Don't squander your time studying irrelevant material; instead, focus on what will be on the actual Avaya Midsize Solution Design exam.
Not Just Questions - Get Real Avaya 37820X Exam Experience
Create a schedule that allows you to devote sufficient time each day to studying for the Avaya Midsize Solution Design Exam . Try to cover the complete syllabus of the Avaya Midsize Solution Design exam. Do a self-assessment of preparation to know your weak spots. Fill these gaps in your preparation with our preparatory material and ace your exam on the first attempt.
Avaya 37820X Questions
Q1.
One of the security enhancements in the Powered By IP 0ffice offer is SIP Registrar Hardening that
enables Better control to allow SIP clients to register using a whitelist and blacklist.
To which platform is this functionality relevant?
Q2.
A customer has an existing Business Communications Manager (BCM) with Avaya 1220 and 1230 IP Deskphones. The Account Manager wants to reuse the sets and minimize the cost of the quote.
Which statement about reusing existing sets from a BCM on an IP Office is true?
Q3.
You are working with a customer to migrate them to an Avaya Midsize solution with IP Office. They have nine existing analog trunks that each cost $40 per month. You want to determine If It would be cost effective to go to digital trunking using a T1/E1 at a cost of $400 per month.
Although the analog monthly line charges are less, what else would need to be taken Into consideration to look at the total cost difference?
Q4.
You are proposing an Avaya Midsize solution with 200 agents, 10 supervisors, 225 non-agent UC users, and 200 non-agent Telephony users.
How many Telephony users and UC users would be Included In your Bill of Materials?
Q5.
Refer to the Scenario: IT-FAC.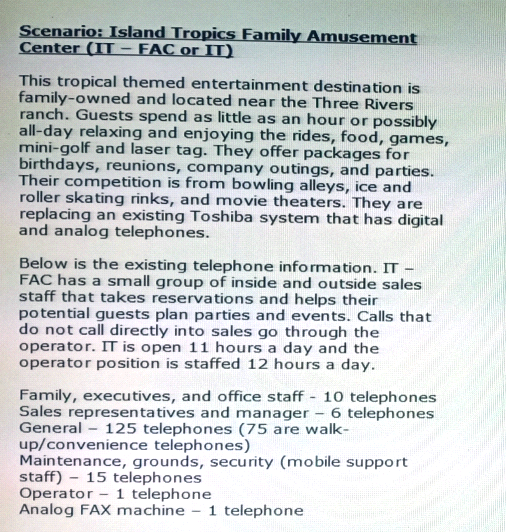 To keep the WIFI separate from the mobility offer, you have decided to address the mobility functionality by providing ten 3700 series Digital Enhanced Cordless Telecommunications (DECT) telephones for the staff working around the amusement center and one-X Mobile Preferred for the six executives.
Based on the above information, what Is the impact of using DECT telephones and one-X Mobile Preferred on the user licensing?