RHIA Exam Questions
Free RHIA Exam Questions - AHIMA RHIA Exam
AHIMA RHIA Exam
Registered Health Information Administrator
Total Questions: 1828
AHIMA RHIA Exam - Prepare from Latest, Not Redundant Questions!
Many candidates desire to prepare their AHIMA RHIA exam with the help of only updated and relevant study material. But during their research, they usually waste most of their valuable time with information that is either not relevant or outdated. Study4Exam has a fantastic team of subject-matter experts that make sure you always get the most up-to-date preparatory material. Whenever there is a change in the syllabus of the Registered Health Information Administrator exam, our team of experts updates RHIA questions and eliminates outdated questions. In this way, we save you money and time.
Do Not Fall for Cheap and Old AHIMA RHIA Exam Questions
Study4Exam offers Premium High-Quality Exam Questions
Find out what will be covered on the exam and how it will be presented so you can prepare adequately. You can better prepare for the AHIMA RHIA exam by familiarizing yourself with the types of questions and topics covered on the exam. Don't squander your time studying irrelevant material; instead, focus on what will be on the actual Registered Health Information Administrator exam.
Not Just Questions - Get Real AHIMA RHIA Exam Experience
Create a schedule that allows you to devote sufficient time each day to studying for the Registered Health Information Administrator exam. Try to cover the complete syllabus of the Registered Health Information Administrator exam. Do a self-assessment of preparation to know your weak spots. Fill these gaps in your preparation with our preparatory material and ace your exam on the first attempt.
AHIMA RHIA Questions
Q1.
The plus sign beside survival time for subjects two (2) and six (6) in the table above indicate observations on these subjects were censored. This means the subjects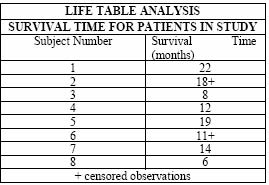 Q2.
In your job as Chief Security Officer, you are evaluating software programs that will support your policy on sound terminal controls within your facility. One of the features you include in your request for information to vendors is
Q3.
You are the coding supervisor at a large inpatient facility. Recently, there has been an increase in coding errors. You have a meeting with your coders to discuss possible reasons for the problem. The group agrees on the reasons listed below:

Having determined a good list of possible reasons for the increase in coding errors, you would like to have your coders help you determine where you should place your problem resolution efforts first. Your best bet for achieving consensus is to use
Q4.
Your facility is preparing to invest in a new document imaging system in preparation for the move to an EHR. The Information Technology Department recommends that a system be purchased rather than developed in house and begins to put together a Request for Proposal. After reviewing the strategic plan for the facility, the next step in the process is to
Q5.
Reference checks are conducted on potential employees to help assess the applicant's fit with the position and also to