GLO_CWM_LVL_1 Exam Questions
Free GLO_CWM_LVL_1 Exam Questions - AAFM GLO_CWM_LVL_1 Exam
AAFM GLO_CWM_LVL_1 Exam
Chartered Wealth Manager (CWM) Global Examination
Total Questions: 1057
Based on Official Syllabus Topics of Actual AAFM GLO_CWM_LVL_1 Exam
During the preparation, you can be confused about AAFM exam question types, exam pattern, and allocated time to attempt questions of the AAFM Chartered Wealth Manager certification exam. Study4Exam helps you to remove these doubts with 3 formats of its AAFM GLO_CWM_LVL_1 exam preparation. We ensure that you will easily pass the AAFM Chartered Wealth Manager (CWM) Global Examination exam either by using GLO_CWM_LVL_1 PDF questions or taking the practice exam is web-based and desktop formats. You can prepare GLO_CWM_LVL_1 practice questions in PDF format at any time and from any place with smartphones, laptops, or tablets. Preparation evaluation is very helpful to remove mistakes and successfully prepare for the AAFM Chartered Wealth Manager GLO_CWM_LVL_1 exam. The AAFM Chartered Wealth Manager GLO_CWM_LVL_1 practice exam is one of the key steps of your exam preparation plan to identify your preparation mistakes, strengthen weaker areas of the preparation, and get familiar with the actual exam environment. Web-based and desktop AAFM GLO_CWM_LVL_1 practice exams are available to help you do self-assessment.
How these Free Questions can help you Prepare for the actual AAFM GLO_CWM_LVL_1 Exam?
Understand the Actual GLO_CWM_LVL_1 Exam Syllabus, Format, and Question Types
Get official information about the syllabus and format of the exam to set an effective study plan. This information helps you to know what type of questions and topics will appear in the AAFM GLO_CWM_LVL_1 exam. Don't waste your time and concentrate on such learning content which is expected in the actual exam.
Self-Asses your preparation for the actual AAFM Chartered Wealth Manager (CWM) Global Examination Exam
Manage your daily routine to ensure that you have the proper time to study for the AAFM Chartered Wealth Manager (CWM) Global Examination exam every day. Sit in a calm environment and do hard work daily to cover the entire GLO_CWM_LVL_1 exam syllabus. It is not possible to study one morning and pass the GLO_CWM_LVL_1 exam the next day. If you want to get passing marks on the first attempt, prepare for the AAFM GLO_CWM_LVL_1 exam daily.
AAFM GLO_CWM_LVL_1 Questions
Q1.
Vinod is projecting an income stream providing Rs. 2,000/- for first 3 months, Rs. 3,200 for next 2 months, Rs. 4,500 for next 1 month, Rs. 3,700 for next 6months and Rs. 800 for 2 months thereafter. Please calculate the Present Value of this cash stream if rate of interest is 9%
Q2.
X furnishes the following particulars for the compilation of his wealth-tax return for assessment year 2012-13.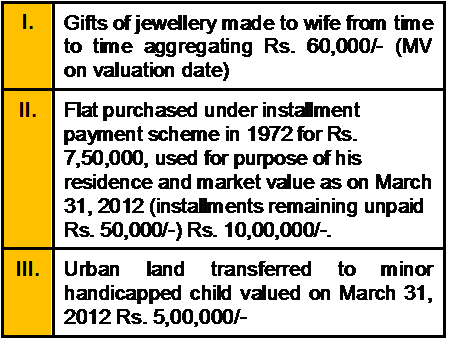 Q3.
Mr. Bose runs his Handicrafts business. His net proceeds after deducting both the business expenses and living expenses are Rs. 6,00,000 p.a, which will increase at the rate of 5%. He is a bachelor and don't intend to start any family in future either. Since he don't have any family obligations, he wants to sell off his business after ten years and buy a home in foothills of Himachal.
He expects to sell the business for a good amount and put 40% of the proceeds in buying the house and setting up a retirement corpus with the rest of amount to pay off his post retirement expenses. He is philanthropic by nature and thus want to save the net revenues from his business to form a charitable hospital for poor people living in Himachal. His current living expenses are Rs. 4,00,000 p.a which will increase in line with inflation. Inflation rate is 3% and interest rate prevailing is 6%.
As a CWM you are required to calculate: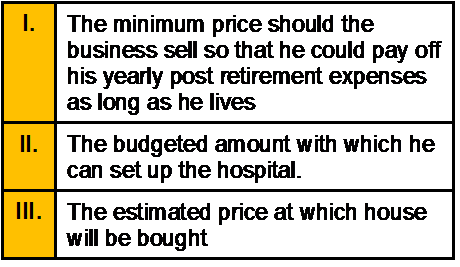 Q4.
Vinod joined on 01/01/90 in ABC Ltd. and retired on 01/01/2007.Employee paid leave encashment of Rs. 4,00,000/-. His last drawn salary is Rs. 25000/-. His last 10 months average salary is 23500/-. He availed 150 days leave during the service. What will be his taxable leave salary amount?
Q5.
From the following information of assets assets and liabilities, the taxable wealth for: